Welcome to the official Cinnadog Deviantart hub!
Check out the
BRAND NEW website!
There you can find in depth information about Cinnadogs and how to obtain your first!



Cinbun the Cinnadog mascot!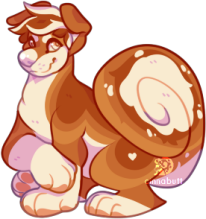 Magical hefty beardogs with swirled tails, bestowed with sentience and sweetness. Always based upon either desserts, baked goods, candy or drinks.
Got an unanswered question? Check out the
Frequently Asked Questions!
We have a discord! 180+ members and growing!
Discord