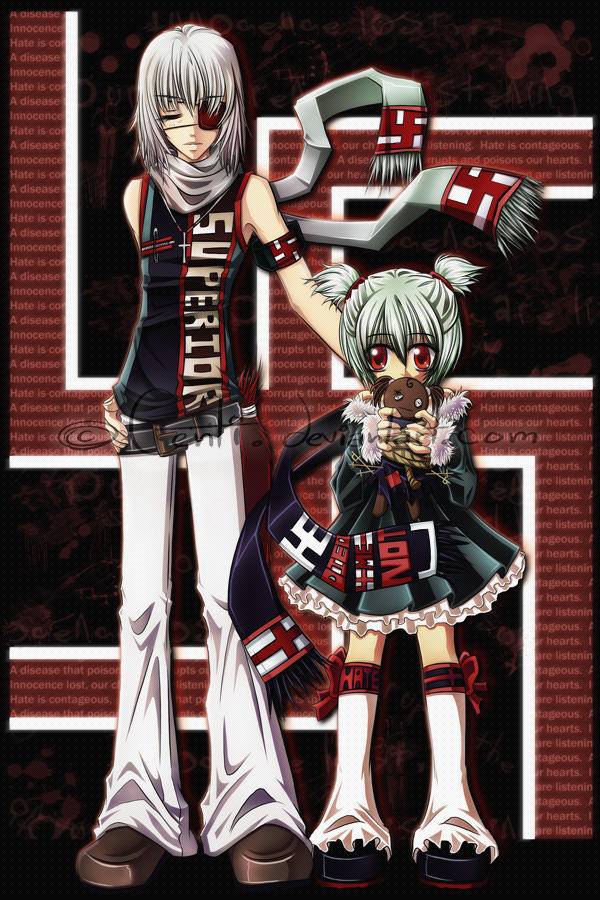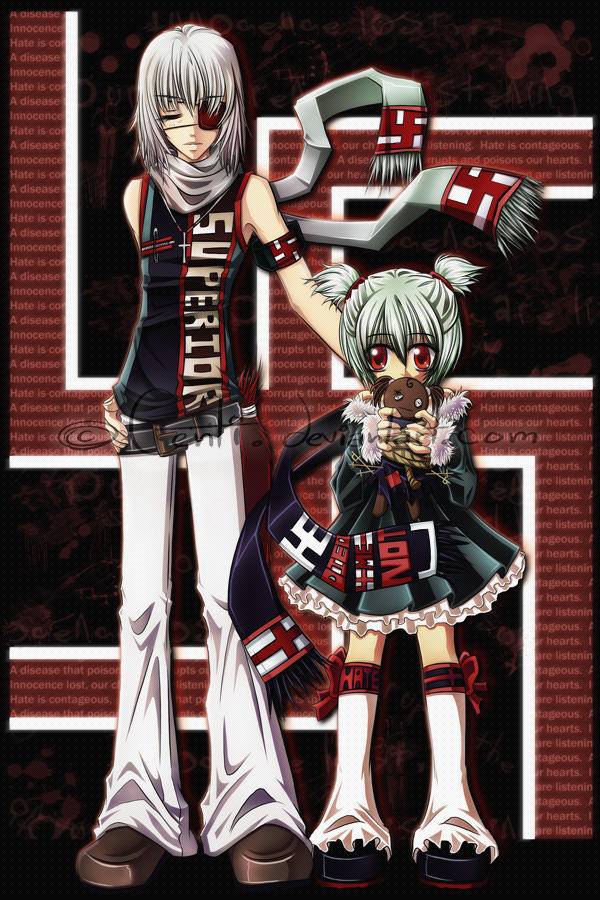 Watch
EDIT!!!! For all the people trying to inform me that I drew a peace symbol for an illustration of hate. I shall now educate you.

1. yes the ORIGINAL symbol represented peace. It can be found over any number of buddhist temples and the such and looks like this. [link] Note...it is counterclockwise in its rotation...

2. I am very much aware hitler stole the symbol...but, he mirrored it as the nazi symbol. The mirrored version in this picture is the nazi symbol and rotates clockwise. Illustration: [link]

so please...please...do not assume I had no idea this symbol was stolen, and please realize they are mirrors of each other.

end edit
"Hate Is Contageous. Its a disease that poisons and corrupts the soul. Innocence lost, our children are listening"
Thats is whats written over and over in the background. I want to let you all know that this is in no way intended to be a racially offensive artwork but rather intended to make a statement of how our hatred and ideals are passed ont our children.
posted in political since there isnt a current events section...I personally think this category should be socio political and not just political
I drew this after seeing an interview on television with a band named Prussian blue. It consists of two twin girls, very young, very innocent looking, with a soft sweet sound to their music, until you listen to the lyrics. Brought up by a white supremecist mother and grandfather the girls were raised to believe blacks were not human...therefore dont have souls the same as them...which is where the phrase on the girl's scarf "he died for me, not you" came from.
Watching these girls broke my heart to realize that two girls that look innocent on the outside are so corrupted by their caretakers ideals...and it made me want to cry.
The characters in this image are both to a degree intended to be children, and siblings, the boy older and farther along in his path to corruption, but the girl vastly unaware of the degree of wrongness in her holding such a doll in her hands. Spatterred with blood textures in the background to show that only pain and negative results come from such opinions.
I forget who I got the blood brushes from so I pre apologize for not properly crediting you. I hope at least a few of you actually read the description. Thank you.
~Centi