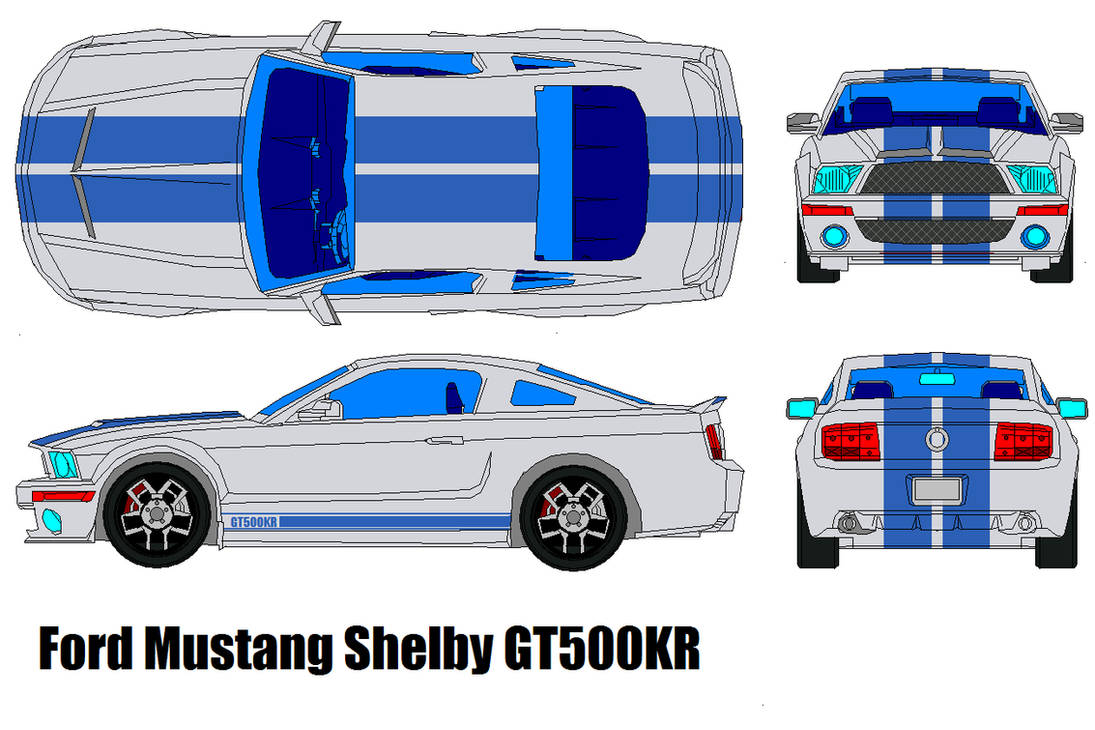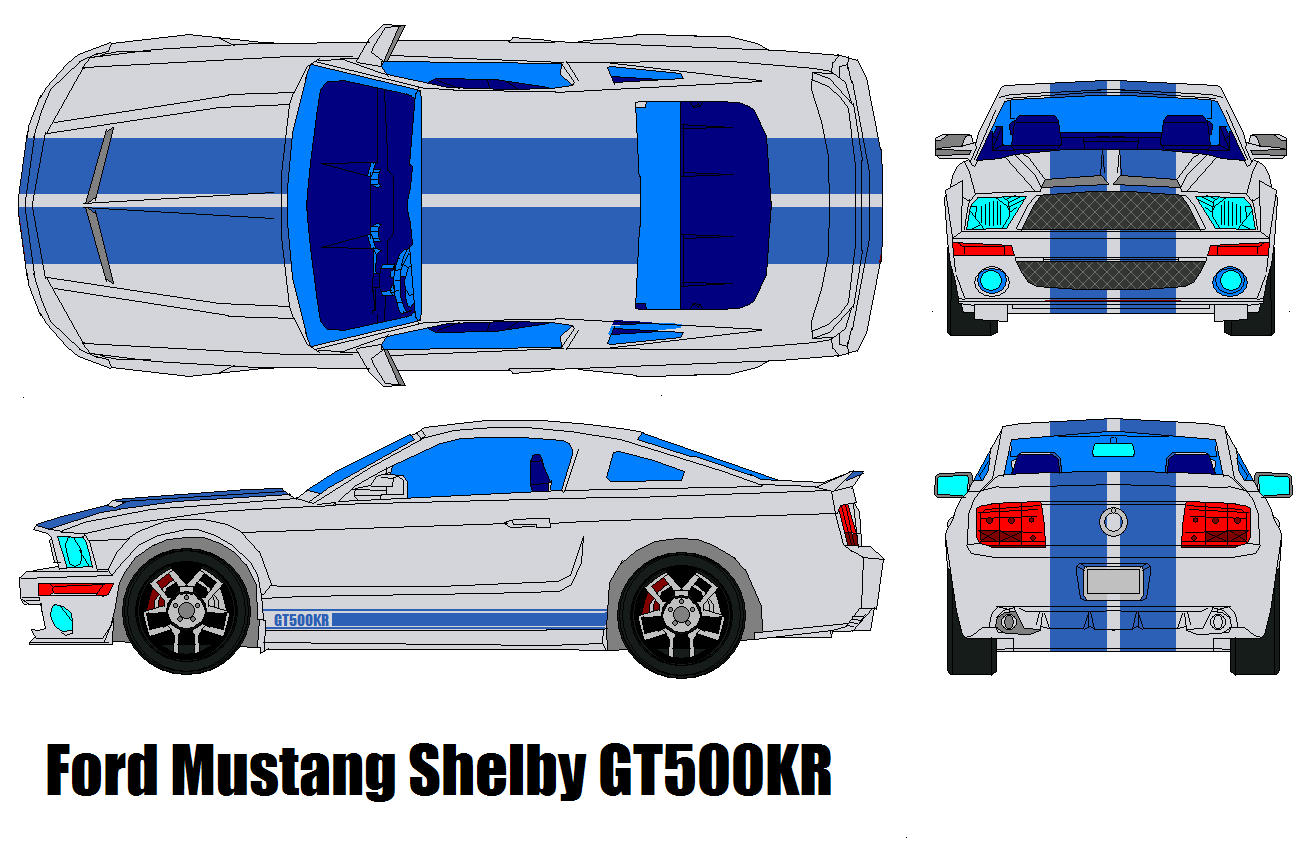 The Shelby Mustang is a high performance variant of the Ford Mustang, built by Ford from 1968 through 1970. The 1965, 1966 and 1967 Shelbys were a series of Ford Mustangs which were specially modified by Carroll Shelby's company and sold under the name Shelby G.T. [1] [2]. From 1968 the model became the Shelby Cobra GT [3]. The program was factory-sponsored by Ford to compete with the Corvette, also factory-sponsored by Chevrolet, neither of which could be built for the sales price charged. In 2007, following the introduction of the Fifth-generation Ford Mustang the Shelby nameplate was revived for new high performance models

006-2007 Shelby GT-H and 2007-2008 Shelby GT

2007 Shelby GT


2007 Shelby GT


2007 Shelby GT Interior


2007 Shelby GT engine

Ford introduced the Shelby GT-H version of the Mustang at the 2006 New York Auto Show. Like the original GT350H from 1966, the GT-H featured gold-on-black paint and was only available at the Hertz car rental agency. A modest power bump over the regular Mustang GT resulted in a claimed 325 hp (242 kW) and 330 ft·lbf (447 N·m). Features included a 5-speed automatic transmission, and a package from Ford Racing including a 90 mm cold air intake kit, X-pipe, special performance suspension, and Ford Racing "GTA" axle-back mufflers. Only 500 cars were built to celebrate the 40th anniversary of the original Shelby GT350H.[5] For 2007, a convertible version of the GT-H was offered for rental at Hertz.[6]

The 4.6 liter, 281-cubic-inch, 319 hp Ford Shelby GT slots between the 300 hp Mustang GT and the 500 hp Ford Shelby GT500. It is essentially a retail sale version of the Hertz rental-only Ford Shelby GT-H, except a manual transmission is available. Other differences include the deletion of the rear spoiler, a retro Shelby hood scoop in place of the CS6/8 Shelby hood, and silver versus the gold stripes, with the car available in either white or black in 2007 and Grabber Orange or Vista Blue for 2008. A very limited number (100) Barrett Jackson Shelby GTs were built in 2008 that were black with red stripes. The Hertz Shelby GT-H attracted so much attention that Ford dealers and customers asked for a version of their own. Like the GT-H, the Shelby GT is modified at Shelby Automotive's factory in Las Vegas, which distinguishes the GT-H and Shelby GT models from the GT500 in that the GT500's are produced entirely in Flint, MI.

Production of the Shelby GT began in December 2006 and the car went on sale in January 2007. It was originally planned that up to 6000 cars would be built with final numbers as of this date still not in but are expected to be slightly less than this amount. As of this date the following appoximate number of 2007 Shelby GT's is known;

2007 Shelby GT Production Numbers

Total Cars - 5,632

White Auto: 491 White Man: 1,768 Total White: 2,259

Black Auto: 508 Black Man: 2,865 Total Black: 3,373

As of this date the production numbers for the 2008 cars has not been announced. A Shelby Registry is being prepared and finalized by Shelby Automobiles, Inc. which will post the official numbers.

At the request of owners a number of Shelby GTs are being modified in various ways by Shelby Automobiles in Las Vegas. One of these modifications results in a model known as the Shelby GT/SC (Supercharged). A large number of add-ons can be had including the "Super Snake" brakes and larger wheels and tires which are necessary to accommodate these brakes. Additionally there are three different available superchargers, again installed by Shelby Automobiles or authorized Shelby Mod Shop, that can increase rated horsepower to 500 or more. Only modifications completed by Shelby Mod Shops will be recognized by the official Shelby Registry.

[edit] 2007-present Ford Shelby GT500
Second generation Shelby GT500
Production 2007-2009
Assembly Flat Rock, Michigan
Body style(s) 2-door coupe
Engine(s) 5.4L 500 hp V8
5.4L 540 hp V8
Transmission(s) br>6-speed manual
Wheelbase 107.1 in (2720 mm)
Length 187.6 in (4765 mm)
Width 74.0 in (1880 mm)
Height 54.5 in (1384 mm)

Shelby and Ford returned for the 2007 model year with the Shelby GT500. Introduced at the 2003 New York International Auto Show, the GT500 uses a 5.4 L (330 CID) Modular 500-hp supercharged V8. Features include the Tremec TR-6060 6-speed manual transmission, suspension tuning, a body kit, and 18 inch wheels.

Deliveries of the Shelby GT500 began in May 2006.[7]

A collaboration of Ford's Special Vehicle Team (SVT) and Carroll Shelby, the GT500 will be produced in limited quantity for three years (approximately 10,000 units per year) on the line at Ford's Flat Rock, Michigan (AutoAlliance) assembly facility.[citation needed]

[edit] 2008-2009 Ford Shelby GT500KR
2009 Shelby GT500KR

The Ford Shelby GT500KR, revealed at the 2007 New York International Auto Show, was released in the spring of 2008. The car is powered by a 540 horsepower 5.4-liter (330 CID) supercharged V-8 variation with a Ford Racing Power Upgrade Pack. SVT and Shelby announced that 1,000 40th Anniversary Editions will be built for the U.S. in 2008, with another 571 units in 2009. This 1,571 production run matches that of the original 1968 GT500KR. In total, 1,746 units will be produced, with the extra 175 units going to other markets.

The Shelby GT500KR features a carbon composite hood with scoops and hood pins, a lowered front air dam, and 14-inch Brembo brand front brakes with functional cooling ducts. The suspension has been modified and tuned by Shelby Automobiles and Ford Racing including unique spring rates, dampers, stabilizer bars, and strut tower brace, all designed specifically for the KR.

The GT500KR draws on styling features from the classic 1968 "King of the Road" GT500KR model, and the 2008 model includes "40th Anniversary" badging; both years will have silver paint with blue "LeMans" stripes, and Carroll Shelby signature embroidered seats. The GT500KR's price will be $79,995.

The GT500KR is featured prominently in the new Knight Rider television series on NBC. One of the main characters of the show is KITT, an advanced Artificial Intelligence housed in a GT500KR.

[edit] Specifications [8]

* Front engine, RWD, 4 passenger, 2 door coupe
* Supercharged DOHC 32 valve V8 engine
* 330 CID (5408 cc) displacement
* Power: 540 hp (410 kW) (550 CV)
* Torque: 510 ft.-lbs.
* 6 Speed Manual Transmission
* 3.73 differential ratio
* 18 x 9.5" Alcoa wheels on Goodyear F1 tires (front: P255/45ZR18 rear: 285/40/ZR18)
* Tuned suspension by Shelby and Ford Racing
* 3,800 lb (1,700 kg) curb weight
* 107.1 in (2,720 mm) wheelbase
* 188×73.9×54.5 in (4.78×1.88×1.38 m)
* Weight 4000 lbs.

[edit] Performance [8]

* 0-60 mph (0-97 km/h): 4.1s
* 1/4 mile: 11.92s @ 120 mph (11.58 @ 122 mph on drag radials)

[edit] Super Snake
A 2007 Super Snake

Starting in 2008, previous 2007 Shelby GT500 Mustangs could be sent to Carroll Shelby's Special Performance Plant in Las Vegas to be rebuilt into a Super Snake, which resembles the 1968 GT500KR, for an additional cost of $27,995. The Super Snake will offer a 605 hp 5.4L Eaton TVS supercharged version with warranty. A Kenne Bell twin-screw supercharged version with "over 725 hp" will also be available, without warranty and a 0-60 time of under 4 seconds.[9][10] The Super Snake is inspired by the 1967 GT500 Super Snake, a car made by Carroll Shelby for Goodyear Tires.

The Super Snake also comes with a variety of other performance, handling and cosmetic changes including badging, gauge pod, stripes, 20" Alcoa wheels, fibreglass ram-air Super Snake hood, stripes, carbon fibre front splitter and skirts, larger 6-piston Baer brakes, front and rear brake cooling ducts, complete track setup suspension, aluminum driveshaft, 3.73 differential gears and cat-back exhaust system.