This Trial has been updated! This version will be accepted until August 16, 2018. The new version can be found here, and is valid immediately: www.deviantart.com/bagbeans/jo…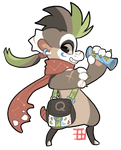 This is Quest! He will be accompanying you on your Discovery Trial. With his help completing this Trial, your Griffian DOM will gain access to future questing!
Rules of this Trial
You need to have completed the Farming Trial and Builder Trial before you can start this Trial!
You need to own an official DOM Griffian before you can do this Trial!
If you choose to do visual art: art has to be fullbody/colored with a background that has depth.
If you choose to write: each step must be posted as literature to DA and be at least 700 words in length. You can also choose to combine the steps into one submission, as long as the requirements for each step are fulfilled in your story. The total word count would need to be a minimum of 700 times the number of steps.
Title your entries with the name of each step.
Companions may be mandatory, so read carefully!
Add your entries to this folder:
Discovery Trial
When you are done, link all images/literature to the correct comment chain in the
Griffia Trial Approval Hub
Rewards: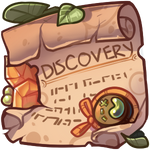 ---
Step 1 - The Bare Necessities
Quest
has contacted you, telling you it is time to go on your first big adventure. In preparation for your excursion, he has suggested you pack whatever you think you will need. Depict your Griffian and Quest packing the necessitates. Quest
must
be present in this step with your Griffian.
Step 2 - Turning Over a New Leaf
While adventuring, your Griffian has stumbled across an interesting, never-been-seen-before plant! Depict your Griffian showing their new exciting find to Quest. Quest
must
be present in this step with your Griffian.
Step 3 - Lost and Found
Exploring the great unknown just became even more exciting! Pushing through the undergrowth, you come across an amazing find; the ancient ruins of some unknown civilization are spread out before you. What does it look like? Quest
does not
need to be present in this step.
Step 4 - A Hole New World
Your Griffian has hit a minor snag in their explorations. While traveling Beania, they stumbled across an unmarked sinkhole (It must be new since it isn't on your map!). How does your Griffian overcome this obstacle? Depict your Griffian and Quest finding a way across. Quest
must
be present in this step with your Griffian.
Step 5 - "X" Marks the Spot!
You have finally returned home after all your adventuring! Depict your Griffian showing Quest all the things you discovered and where you found them. Quest, the map of Beania, and your Griffian
must
be present in this step! (You may use this
map of Griffia
to add into your drawing if you feel uncomfortable drawing it yourself. If you chose to write, please include a link to the map in the description of the deviation).