This Starter Trial is for Bagbeans to become active residents of the Beania continent. This Trial must be finished before a Tamer Bean can be used. Completion of this Trial unlocks the ability to do further content in Beania.
Rules of this Trial

You only need to complete ONE of the steps below to complete this trial!
Completing them all is now OPTIONAL.
This Trial has to be finished before your Bagbean can move on to any of the other Beania Trials.
You need to own an official Bagbean before you can do this Trial!
If you choose to do visual art: art has to be fullbody/colored with a background that has depth.
If you choose to write: each step must be posted as literature to DA and be at least 700 words in length. You can also choose to combine the steps into one submission, as long as the requirements for each step are fulfilled in your story. The total word count would need to be a minimum of 700 times the number of steps.
Title your entries with the name of each step.
Companions may be mandatory, so read carefully!
When completing this activity your Griffolk must be in Griffolk, Companion, or Human Form - if you have shapeshifter forms. You must have the form unlocked to use it in Activities.
Add your entries to this folder:
Trials Folder
When you are done, link all images/literature to the correct comment chain in the
Global ACTIVITIES APPROVALS
Rewards: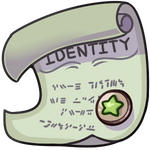 (You may choose
one
of the following 2 items as well).


---
Step 1 - New Beginnings
Your bagbean is getting ready to go on their very first trial to find their identity! Consider what your bagbean would need before they're leaving, and depict them getting ready however you like - whether that be purchasing the materials for their bag, sewing it together, making food with their caretaker to take on their adventure, walking to Fabian's, or even eating the cookie that Fabian gives them before going through the portal! Use your imagination and think about what your bagbean would've done before the big day, or show us how their visit with Fabian went.
Step 2 - The Big Journey
When your Sprout is ready, they visit
Fabian
for the next stage of their rite of passage. Fabian hands you a cookie that transforms you into a human and takes you to a special portal leading to Earth. Portray your Bagbean as a human in the real world and what they find there that inspires their theme. Your Bagbean
must
be in human form for this step!
Here is a small comic.. about how Bagbeans grow up and travel to Earth! >> Click me!<<
Step 3 - Home at Last
Congratulations, your bagbean has found their identity and is now back in their own world! Portray your bagbean back at home after their trial - are they telling Fabian about their adventure? Collecting their dye potions? Maybe they're running to embrace their caretaker, or hugging their favourite pet they left behind? The choice is yours, but keep reunion close in mind. Fabian does not need to be included in this step.
Step 4 - What's Your Bag? (This is for MYO Sprout's ONLY!)
Art:
What does your MYO sprout's bag look like? Please include this form when commenting your identity trial for approval:
Standalone image of official bag design: (can be flat colours + white/transparent background)
Do you give permission for the Griffia ARPG to download and rehost this image for the purpose of ML record: Yes/No
Please note that answering no is an automatic denial of your bag, and the design will not be considered official.