This is Agnes. She is happy to give you some pointers on proper produce growth!
Completing this Trial will allow your Griffolk to begin growing their Time Tree, unlock Advanced Farming Trial and Discovery Trial !
Rules of this Trial

You only need to complete ONE of the steps below to complete this trial!
Completing them all is now OPTIONAL.
The Beania Registration Trial or the Identity Trial must be completed first before your Griffolk can begin this Trial.
You need to own an official Griffolk before you can do this Trial!
If you choose to do visual art: art has to be fullbody/colored with a background that has depth.
If you choose to write: each step must be posted as literature to DA and be at least 700 words in length. You can also choose to combine the steps into one submission, as long as the requirements for each step are fulfilled in your story. The total word count would need to be a minimum of 700 times the number of steps.
Title your entries with the name of each step.
Companions may be mandatory, so read carefully!
When completing this activity your Griffolk must be in Griffolk, Companion, or Human Form - if you have shapeshifter forms. You must have the form unlocked to use it in Activities.
Add your entries to this folder:
Trials Folder
When you are done, link all images/literature to the correct comment chain in the
Global ACTIVITIES APPROVALS
Rewards: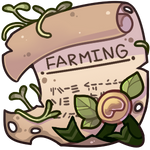 ---


Step 1 - Beginner Steps
Your
Griffolk
has decided to try their hand at being a green thumb - awesome! Where do they begin? Do they go to the market to purchase a pot for their plant? Maybe they're raking land for their crop? Depict your
Griffolk
in some way preparing to grow something (can be anything! Flowers, succulents, a tree, carrots, pumpkin, etc).
Step 2 - Disaster, Naturally
Something bad has happened to what your
Griffolk
is growing - maybe there was a flood, a drought, or perhaps a floophorse stampede! Show your
Griffolk
confronting the problem, or preparing for disaster!
Step 3 - Invested and Infested
Everyone has to deal with pests when it comes to growing things - and your
Griffolk
is no different! Some kind of pest, vermin, or other menace has invaded your crop! Perhaps its bugs, critters, or maybe a whole puddle of bamschovies! What does your
Griffolk
do to combat the issue?
Step 4 - The Gourd, the Bad, and the Fungi
Growing things isn't just about trials and tribulations - it's about time! It's been a while since your
Griffolk
started this venture. How did their farming endeavor go? Do they have a beautiful shrub to take pride in, or did they end up with a shriveled mess?
Step 5: A Finishing Touch
Your
Griffolk
has learned a lot since the beginning of this farming endeavor. Depict what your
Griffolk
decides to do with their newfound plant, or lack thereof! Do they cook it? Eat it? Set it on fire? Salt the earth and vow to never farm again? Feel free to be creative!