This is Quest, and with his helpful suggestions you have set out to find a place to build your home on Beania!
Rules of this Trial

You only need to complete ONE of the steps below to complete this trial!
Completing them all is now OPTIONAL.
The Beania Immigration Trial or the Identity Trial must be completed first before your Griffolk can begin this Trial.
You need to own an official Griffolk before you can do this Trial!
If you choose to do visual art: art has to be fullbody/colored with a background that has depth.
If you choose to write: each step must be posted as literature to DA and be at least 700 words in length. You can also choose to combine the steps into one submission, as long as the requirements for each step are fulfilled in your story. The total word count would need to be a minimum of 700 times the number of steps.
Title your entries with the name of each step.
Companions may be mandatory, so read carefully!
When completing this activity your Griffolk must be in Griffolk, Companion, or Human Form - if you have shapeshifter forms. You must have the form unlocked to use it in Activities.
Add your entries to this folder (
except
for the 4th step!):
Trials Folder
When you are done, link all images/literature to the correct comment chain in the
Global ACTIVITIES APPROVALS
Rewards: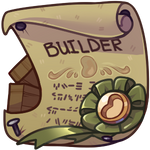 ---


Step 1 - Bare Beginnings
Your Griffolk has decided to make a place to call home on the continent of Beania! Beanians are known for priding themselves on functionality, but there are options to suit all tastes. Do they look for a cozy apartment? A sprawling homestead - or maybe something they can take along with them? Depict your Griffolk as they begin their search.
Step 2 - Work in Progress
Deciding on where to hang their hat is only the beginning - it's time for the how! Do they spend hours pouring over blueprints? Shopping for furnishings or decor? Do they have help, or roommates to consider, or have they opted to use the wide open country as their abode? Show us your Griffolk building, fashioning, or personalizing their space!
Step 3 - Home Sweet Home
It's finally all done! Whether it's a yurt on a remote mountainside, a sprawling suburban rambler, or a room in a bustling co-op, your Griffolk's home is finished, and they can take a step back to admire their work. (Needs to show the entire home.)
Step 4 - On the Map
Use the map below and mark where your Griffolk has built their home with a red circle! (You can either upload it to Scraps, Stash, or your Gallery once you have it marked).