has been doing an amazing job of working on pokecchi things and is keeping this super fun club alive through sheer force of awesomeness. I have to say I'm a little floored at how much top notch material he's thrown together, and he's even made special effort to include some sweet get well giftart for me (And right before the holidays!) It touches my heart so much . . .

SO now if you want to know what I'm talking about then feast your eyes on this amazing spread of hot, awesome, eye orgasming bliss!
:thumb419608627: :thumb420076713: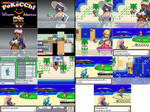 :thumb409661799:
And there's even a youtube video in there!
So yeah, do yourself a favor and go check out the most awesome dude ever this holiday season, his name is



(if you say it three times he might magically appear)