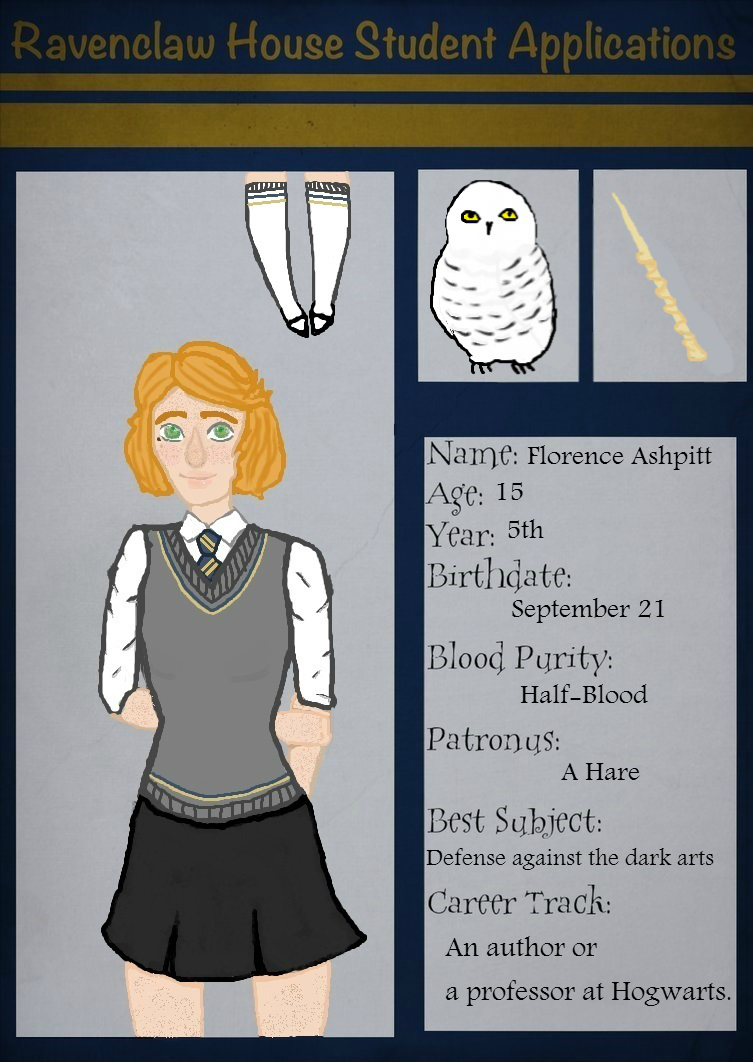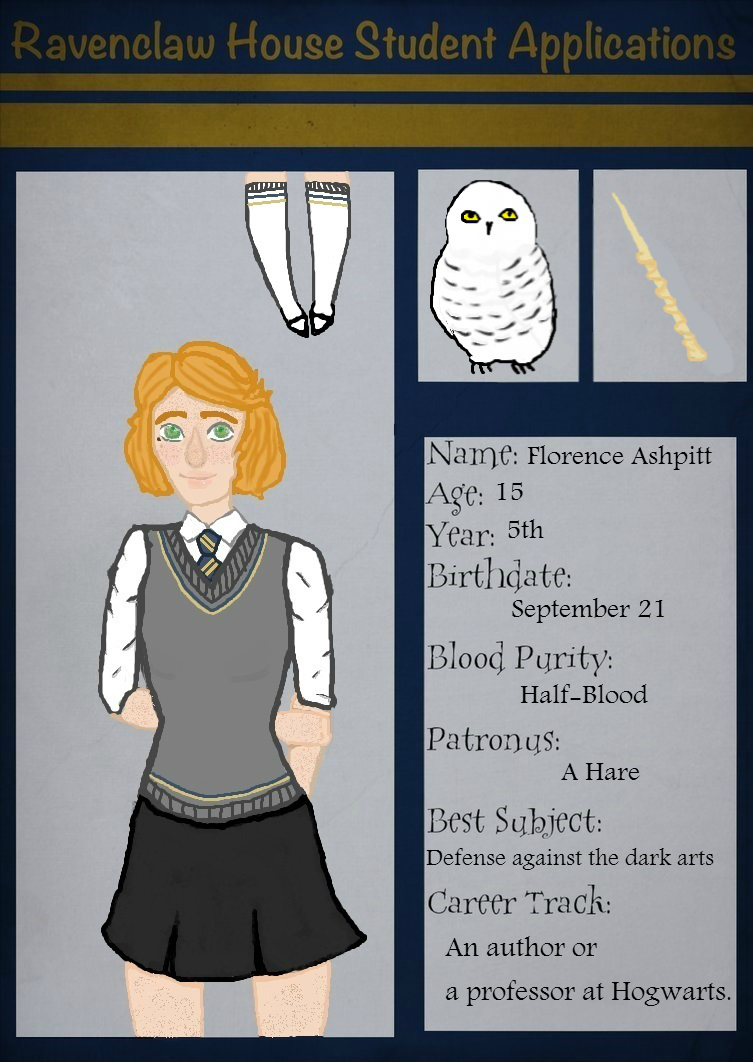 Watch
Name: Florence Ashpitt
Age: 15
Year: 15th year
Personality: Seems very quiet, but if you talk about a topic she is interested in she will never shut up. She is very polite and hates to lie, but can keep a secret. Although she doesn't have many friends, she is very loyal.
Pet: A snow owl that she named Athena
Wand" 12" Holly with a dragon heartstring
Patronous: A Hare
Sexuality: bisexual
Likes: reading, animals, writing, drawings, the wilderness, collecting
Dislikes: Being alone, being a show- off, being the center of attention, being lied to, and coffee.
She is open for rp! enjoy
EXTRA:
Appearance: strawberry blonde hair with hazel eyes. she has a beauty park by her right eye. Freckles cover at least 75% of her body. She is very lean and very tall. She weighs around 130-135, but she is 5.8ft tall. she may not look very strong, but she is. her arms are slightly muscular. she cna hold up to 22 books in each hand.
Interest: she loves to read. her favorite genre is either realistic fiction or fantasy. she is also a sucker for romance. surprisingly, she loves scary movies. her favroite type of music is folk, but she adores ellie goulding.

What a delightful job you did!
Reply

What a cootie patootie, we can rp if you want owo ))
Reply

Okay

Okay

I'm sorry

Ashpitt

PFFT
Reply

Aw, look at that cutie Ravenclaw. RP?
Katie is coming for her...
Reply

oh thank you!! c; and of course!
oh........ oh dear...... run Florence run!
Reply

AAAAAAAAAAAAAAAAAAYYY
You're Joining the thing welcome to the thing I'm part of the thing we can be in the thing together welcome friend
it is fate that we must rp now yes we must
Reply

YES YES YES OH MY GOSH AWESOME!!!!!!! SEND ME A LINK TO YOUR OC"S!!!!!!
Reply

Reply

YES! you have a ravenclaw oc. that is awesome! she ass you know is new and doesnt have any friends. at least she will have 2 for the beginning of the year!! ;D
Reply

Yay friendship! We should totally rp though, do you have any preferences comments/notes script/paragraph?
Reply

ive done them all and i dont have a favorite. you can start with wish ever method you prefer.
Reply

I usually prefer comments (I can keep track of them better) and paragraph style, also would you prefer if I used Elliot or Arabel? I'm absolute awful at making decisions.
Reply