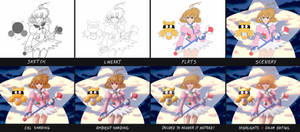 Yomi's Step by Step Pics + WIPs!
Thank you for stopping by! 😁 Feel free to subscribe to check out the process behind my art and get a Portfolio Review (+ Tips to improve your art!) as a welcome gift at the cost of a modest monthly donation! 🚀✨
---

Digital Painting tutorial pt 1
Description
Image size
500x3000px 567.26 KB
Nice work. Anyone who doesn't think she could do this from scratch probably isn't good at drawing realistic art. If you can draw realistic in paint, pen or pencil, you can definitely do it digitally too but faster. Her end result is semi realistic and even if she started with a photo underlay, so what? She is still very skilled/talented artist.