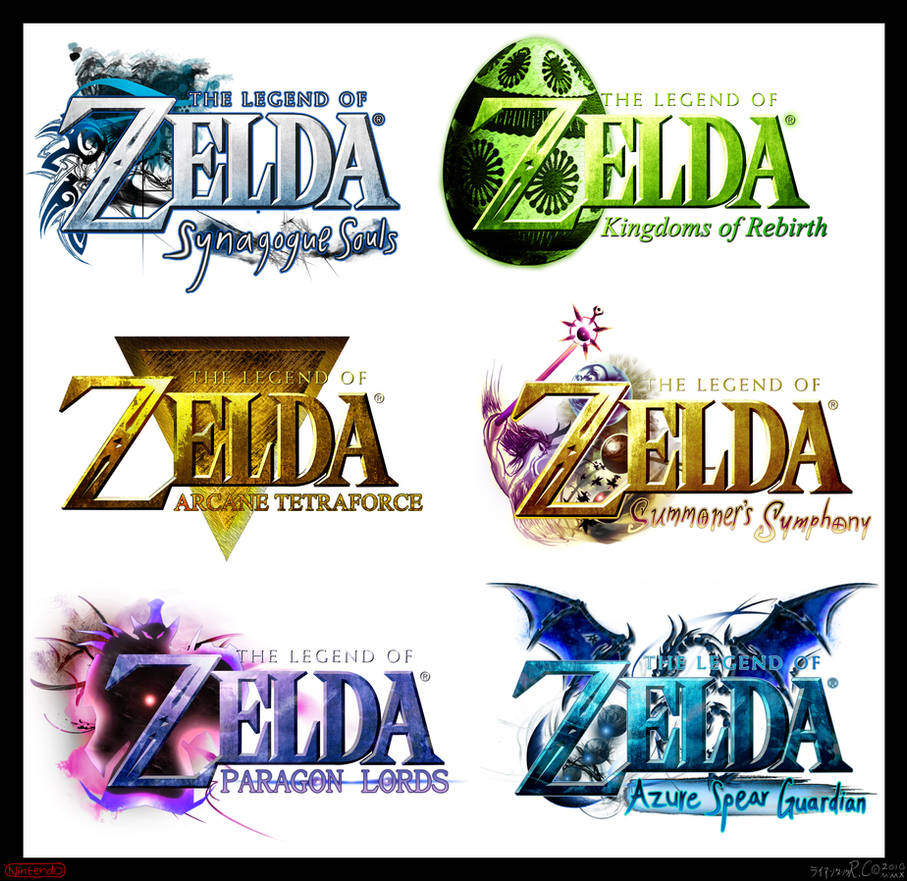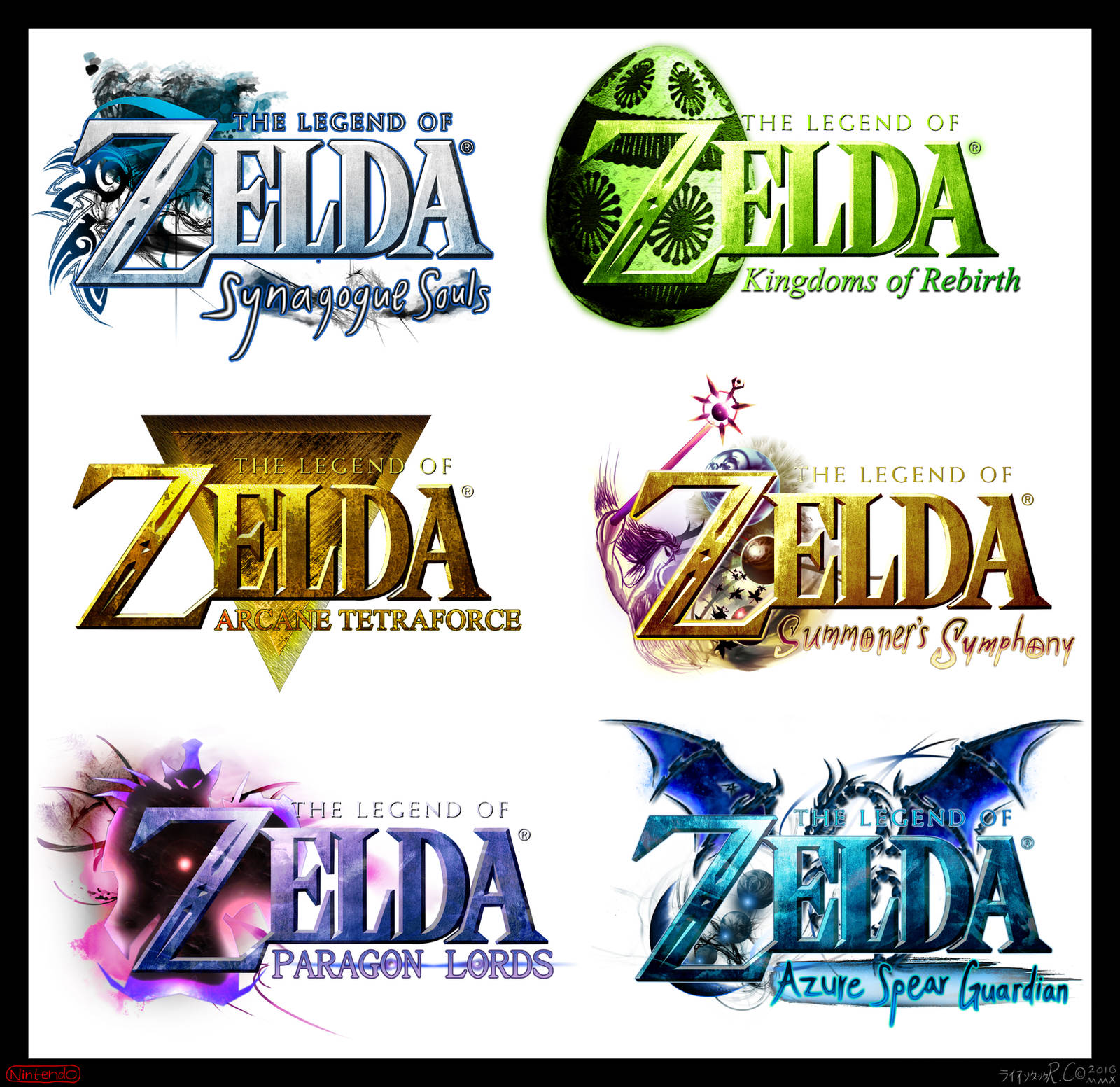 (Note: These are joke titles, as you might have noticed)
HYRULE FANTASY GAIDEN XIII: Synagogue Souls
HYRULE FANTASY GAIDEN XIV: Kingdoms of Rebirth
HYRULE FANTASY GAIDEN XV: Arcane Tetraforce
HYRULE FANTASY GAIDEN XVI: Summoner's Symphony
HYRULE FANTASY GAIDEN XVII: Paragon Lords
HYRULE FANTASY GAIDEN XVIII: Azure Spear Guardian
The six titles that I made for the 3rd and probably last set of the custom logos for Zelda. Enjoy!
To see the previous sets, please view and perhaps +fav here:
Set I -->
sangheiliartist.deviantart.com…
Set II -->
sangheiliartist.deviantart.com…
✮
Overall Quaity Score: 8.25 / 10
✮ (Paramount)
Custom Logos(c)Moi
Zelda, original logos, and franchise(c)Nintendo
With beautiful colors and amazing vocabulary, the artist depicts how he might want Zelda Logos to look in the future. Every color blends with one another. He has a very skilled technique, which will captivate the viewer. Very detailed and percise, his originality is amazing. To come up with six original names is very difficult. My favorite logo happens to be "The Legend of Zelda: Summoner's Symphony". It has a very nice choice of colors that go together just amazingly. I also admire the logo of "The Legend of Zelda: Paragon Lords". It's very mystique and just simply gorgeous. I now want to know the storylines of each game; they sound very, very interesting.
Amazing job!

The Artist thought this was FAIR
77 out of 85 deviants thought this was fair.
A video game or movie logo is always tough to figure out. Video games, more so. And to take an existing franchise and try to create a logo in that same light is even more challenging.

I think the artist has done a decent job here. The biggest concern would definitely be the treatment of typography. While even the professional industry doesn't always make good type decisions, it's still important to make sure those decisions are made correctly. It's almost always a bad idea to take a serif font and add any amount of bevel or emboss. Also, outlining text should be done in a way that aids reading.

The illustrations here are quite nice, though I feel they are so complicated that one has trouble interpreting what they are. One should always be careful not to overdo layer styles or effects. A simpler design says more about professionalism than throwing on as many flashy effects as possible.

Another concern is the fact that the logos are highly monochromatic. Summoners Symphony does much better with it, but the other logos have the word "Zelda" in the same hue as the background objects, which creates less contrast: something of utmost importance when it comes to readability.

I understand that it may not be artist's intention to imitate the visual conventions of existing Zelda logos. Therefore, the fact that these logos have a much different feel than the official logos isn't necessarily a problem.

In summary, the biggest issue is typography: contrast of letters against the background, simplicity of design, and perhaps the appropriateness of the modern scrawl in the subtitles.

Take all of these into account, and your logos will go from being just more fan-made Zelda logos to something that will make your audience think twice.

Hope this has been constructive!
The Artist thought this was FAIR
68 out of 70 deviants thought this was fair.
The owner of this deviation has disabled comments.