Journal Entry:
Thu Oct 11, 2018, 1:27 PM
CLOSED

For the first of these entries, please read all the information and provide me with the password that is hidden!

Open-Earth species

I'm going to start of with the earth species! These will be a total of 11 wolves! Make sure to read all the information below.
Deadline
21th of October 2018

READ the "Earth info BOX"!!!

Keep in mind, their background information is similar to that of the survivors that are free by now. To check out how their lives where thrown upside down, check the site =>
azurehowl.weebly.com/earth-sur…
(Obviously the info on how they behave within the pack does not count here). This text has been updated as previously little was known.
Your fan character in AzureHowl

In Short, originally I was going to design every ghost pup (survivors of the Dark cities) on my own. Realizing it would be more fun to involve you guys I decided to start these journals were people could submit an entry. This way the survivors will feel even more alive due to your personal touch on the character.
specie: Earth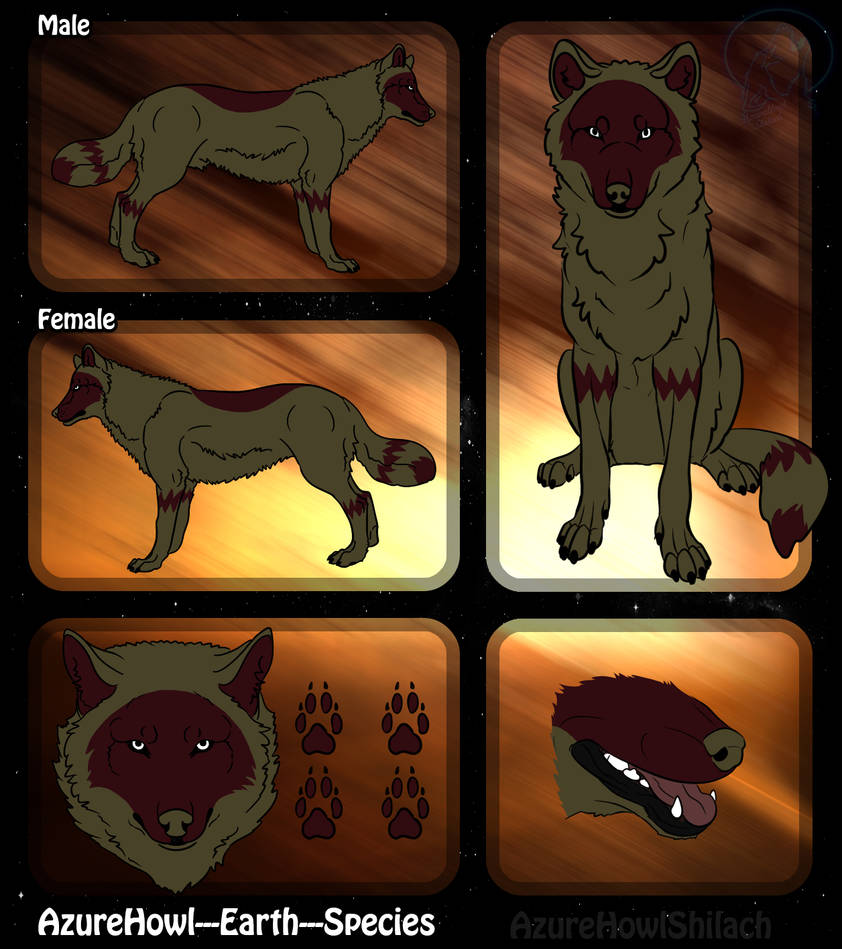 Earth survivors info box
(Always make sure to read the general slave camp situation below)
For the earth wolves, physical work is a daily task. Because of this the majority of them are rather strong physical as the weaker earth wolves died in the years that passed. Earth wolves are tasked to build structures of some sort, them being one of the only capable to do so have no choice. They are heavily controlled without their collars, and once they have preformed all the work that had to be done, they'll be forced to wear their collar again. Psychic wolves of the Shadow Clans are mostly the ones in charge of them. Other than that not all earth wolves are used for this work, as only those with a weaker state of mind are used. This was to avoid a possible chance of the young wolves to consider fighting back. Often they are taken to a nearby mountain as they have to create blocks of earth which in return is dragged back by other slaves. Due to them being rather valuable at the moment, they aren't often victims of torture or experiments, as they are to valuable. The earth wolves are notorious for having dominant individuals among them, that do not get a long at all with the fire wolves due to their dominance. Other than that they hold a grudge against shadow wolves.
"Slave camp situation"
The situation in the slave camps have changed drastically from the past. Compared to long ago, were continuous terror, abuse took place. Due to the many loses the Shadow clan was faced with a problem. If they kept it up this way, they wouldn't keep a slave alive to work for them. Because of this they are given food every week twice, and although most are slim they aren't skinny either. Abuse is limited but still takes place. experiments take place on specific individuals. But in general they have toned down compared to long ago. This however doesn't make their situation a pleasant one. They have known the years of true horror and lived to tell the tale. Some of these wolves are completely traumatized, others are filled with rage. While they support and depend on each other, more dominant wolves will try to claim more food rather than sharing. In the end their instinct to survive is really big. Due to the overall bad conditions, this has given aggression place as not all wolves from the dark cities get along. There are individuals that will always try and remain peace among the wolves, reminding them of the true enemy. They truly have a grudge against the Slave camp leader. But they fear the main torturer of the Shadow clans above anything else. This wolf is known to have broken any wolf mentally and physically, it doesn't help that he is often around. Many young wolves have died to this torturer.
The wolves stuck here luckily were as unknown as most survivors about the location of the hidden sanctuary. But if taken under this torturer's paws, they will likely have told anything special they could in hopes of surviving.
Your fan character

-Is official
-Can appear on the background, or speak
-Will be credited to you
-is mine to use, I can alter the description or change details in the story to make the character fit in.By entering you give me this right.
-I can alter the appearance if needed
-I can alter ages/ sexual orientations if needed
(only 1 or none to a group, the ghost pups already count plenty of different orientations by now)
The Amount of wolves
I am looking for a total of 11 earth wolves
-5 symbolized
-6 normal (balance between scarred and non scarred)
Rules(general)
-You can only use the "given base" or "personal base/artwork" for your entries. (Given base =>
Free wolf ref sheet
)
-Have you purchased bases created by me, then those are valid for entries as well.
-You may re-use a personal base you made.
-You can only submit 1 entry, set entry however can have 2 versions. This being (non)symbolized.
-When writing the background you will need a shrink-ed version of set background information. I suggest keeping the most important details in. The max text can be found here in my stash =>
Ex
. I will advice to have both "background" and "prominent traits of his or her personality" within this bio.
-When submitting an entry, be creative. It came to my attention that it happened from time to time, that people would use elements similar to an already submitted character. I will pay attention to this, so keep this in mind.
-No begging. Please refrain from stating things like "I hope my character will be selected" or "I worked so hard on this I hope it will be worth it" when submitting. Your not the only user to take part, understand that any person that enters has a chance of winning .
Rules(character)

-Your wolf has no special rank other than "Slave"
-Your wolf cannot be related to a leader of the past.
- View the color chart to ensure the right colors for both Colors (view chart) =>
AzureHowl Specie - Color chart 2018
- You can always find extra help by joining the discord server for AzureHowl, to be fully member it does require you to read the rules first =>
discord.gg/vJnzwHQ
-For this entry, no color mutation of summoning
-Story has to fit, I will alter if not
-I need a name, background info etc..
-If you give a small backstory I can alter and add more info the the character.
-The ages possible for this species range from 15-18
-Wolves and trinkets, read before you give them this =>
azurehowl.weebly.com/dark-citi…
(can be found on the bottom of this page)
-Keep charms one or two tones!
-Avoid to human like items (masks, hoodies etc)
-The password is:any random fruit or candy you type
-Scars are allowed
-Read info on Earth wolves =
azurehowl.weebly.com/earth-spe…
-I can change parts in your story to make it fit with possible siblings.
-As for naming family members, the site will not mention these, it will state "Family:Unknown". They would only appear on the site if they would be mentioned.
-If the wolves are with little amounts, I might change sexual orientations to the majority.
-It's not first come first serve, I will pick between the entries for this journal
-Just because you entered does not mean your character will be picked.
-I can alter the background, I can add past events... or choose them for a role that was supposed to happen within the pack.
"Post your character here!"
don't just post it randomly post it to this journal so I can see it, don't be sad would I not pick your character!
"Naming rule"

-Probably SUPER important, special names are required as the majority of wolves in AzureHowl have these, such as : Ruuza, Kaitou, Kareny, Takaya, Nihar, .... So I do not want to see names like :Jack, Bobby, Oliver, charlotte, victoria, Samantha, Jacob, ....
-When making names please don't use the translator and translate one word into a different language. It's cool to use words unknown to our own language, but if so mix these with other words to create a unique name rather than a possible word everyone finds.
Tips
-Do not name your character's siblings unless they die, this way I might make the wolf in question related to another entry submitted here.
-Your wolf can be an offspring of special ranks such: leader, commander, general, etc....(unless it's mentioned they cannot have the rank above)
-Even when NOT symbolized they can inherit a color mutated eye color. (unless they are a specific specie with a specific color requirement for eyes)
-I recommend reading "how to make a fan character for AzureHowl" =>
azurehowlshilach.deviantart.co…
- Info ghost pups =>
azurehowl.weebly.com/ghost-pup…
- Info Dark cities =>
azurehowl.weebly.com/dark-citi…
-When making a symbolized wolf, chances are if you add tons of dots or stripes which in general is a pain to animate, that I won't pick your character due to it's appearance. You'll notice my own symbolized wolves will rarely have to many markings. Avoid extremely complicated designs! As much as I love some designs do keep in mind I will judge it with the thought of having to animate it, adding a marking with to much complexity might lower the chances of success.
"Say the magic word to qualify"
but not for this first round! you'll have to find the password within the text somewhere above! Please don't be lazy and looks at the comments :'D