Welcome to my Deviantart! I am not new to this site. Some may recognize my art. My former dA name was

I have been trying to find my old deviations online with slow success. I am grateful to the deviants who have been able to help me accomplish this!
I took a year hiatus. I fell apart so to speak as I faced the most difficult challenge of my life and thought I might never draw again.
I lost someone close to me, which in itself was bad enough but the events that also unfolded as it happened was just as difficult.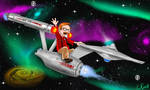 I have to rebuild! I hope those that commissioned me before will find me and still want my art.
If you have any of my old art saved to your PC please shoot me a note to it if you can!! <3