Description


Hello Guys. I`m from Ukraine. Starts really hard times for me, my family and nation in the whole
We would happy to receive any kind of support to stay safe
Donation link for Paypal --->
www.paypal.com/cgi-bin/webscr?…
Thank you a lot guys for your support. I could make commissions for you in the future.
or I could give you original images as a gift



My E-mail: Azotconcept@gmail.com (Paypal as well)
I can make illustrations, concept art, book covers, game locations, characters etc
Feel free send me mail with your description and we can make breathtaking art for you!

IF YOU LIKE MY WORKS YOU CAN FOLLOW ME ON Facebook
AND Instagram

Previous Sketches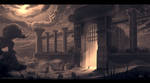 Image details
Image size
4148x2269px 2.76 MB





Overall





Vision





Originality





Technique





Impact
This is wonderful I love it I love the colors I love that you took your time on it I love the way it has a forest theme to it. I love everything about it this is by far the best picture I have ever seen on this deviantpage the vision is great, the technique is great to. I Love every word and the colors you must be keep working on this kind of art. please do and there is one question for everyone.
What do you think when you look at this picture. I for one think that this is wonderful art