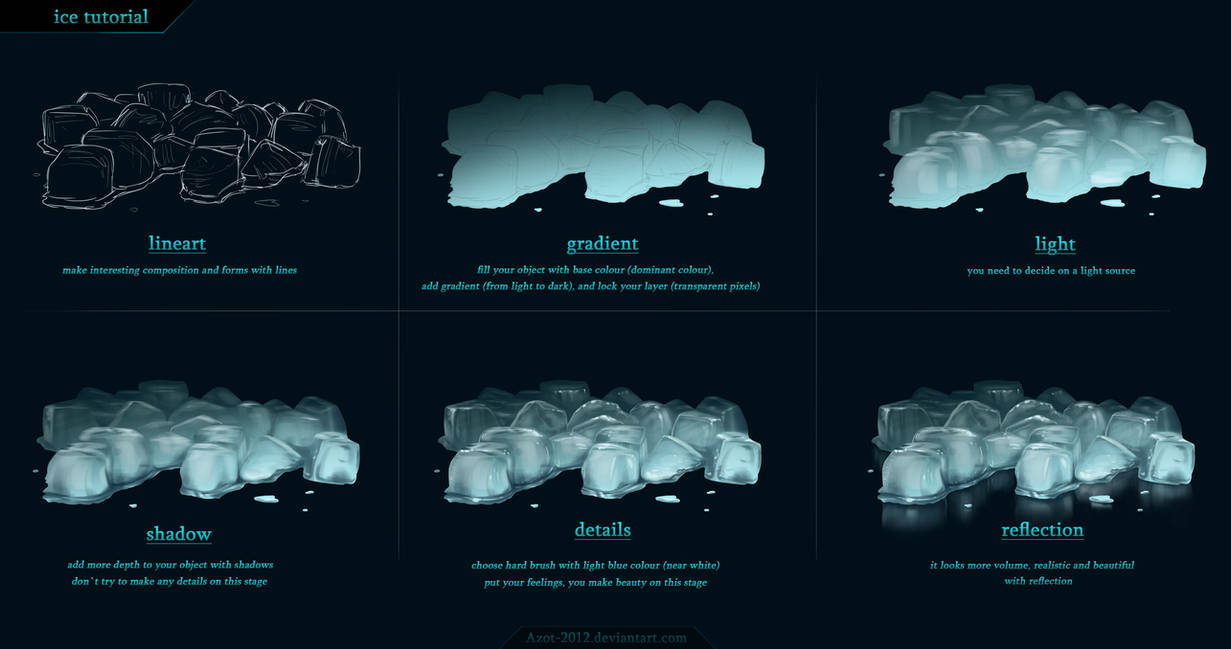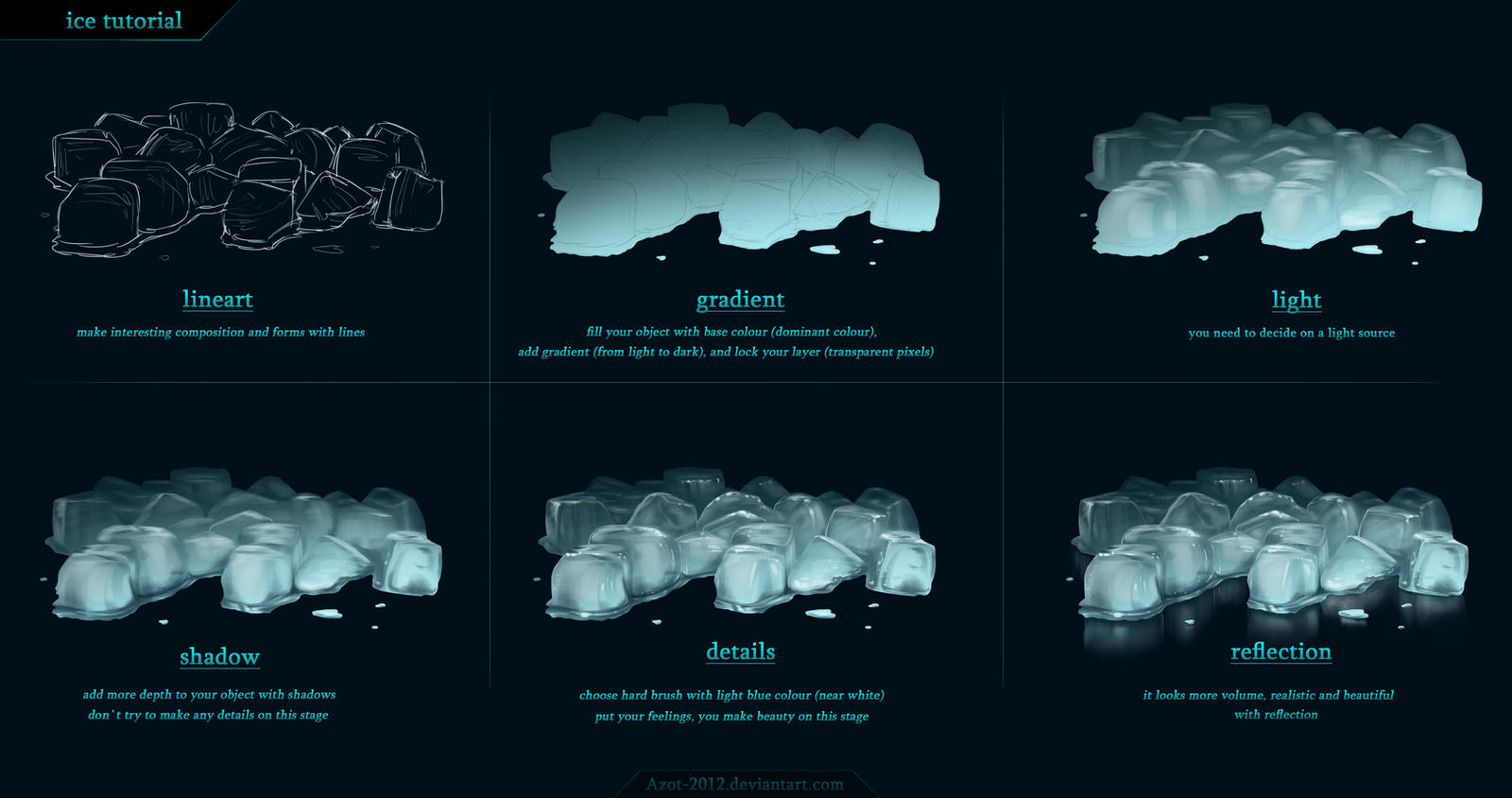 Watch
Hello friendz. I`m too busy at big interesting project, so I can make only little tutorials for you and me

If I have any English mistakes, plz, tell me about that

My last work
----->
Fire tutorial
------->
Ice tutorial #1
------->
Ice tutorial #2
-------->
I use this
reference
[link]
by

Have a nice day!


With the style you are going for, this is very good. I really like it! your style is original and result realistic yet otherworldly. It allows us to go beyond realism and really believe it!
If you wanted to give a more specific feel I suggest shading with other colours. try to add a reflection of green, purple, orange, sapphire and shadow and highlight in a similar way. This will make more sense of an environment, make the area have emotion as well as detail.
Add bloom. on those REALLY INTENSE areas of light (almost pure white) make the light go beyond the object. a little like it is glowing because it may as well be.
Transparency of the cubes are another thing you can experiment with.
The melted water also has life. make it flow like it does.
show objects directly reflected in the cubes/crystals. REFLECTIONS everywhere! in a frozen world it is like being in a hall of mirrors. Each ice crystal has its own personality and will reflect your image back using its personality. Make each crystal unique. Imagine it growing.
And finally try to give the world a story. even if it is short and only one sentence. if it believable to you it will mean more to us.
Take what advice you agree with and disregard what you want. This is your work and I want to keep it that way.
You are a talented artist and what ever you choose will be the essence of your vision.
Sorry if I used any hard to understand words or sentences. Contact me if you are confused or just want a chat.

happy Arting

~Sapling
The Artist thought this was FAIR
67 out of 71 deviants thought this was fair.
I love that there's a tutorial on ice to begin with! It's such a complex object to reflect in visual art, whether it be traditional or digital, and to have some guidance in the process of trying to complete such a feat is amazing.

I like how there's emphasis on BOTH highlights and shadows, as many people have a tendency to forget about the shadows when working with objects where the light catches our eye more than anything else.

I also like the gradient technique. It gives an extra depth in perspective, which encourages the artist to practice with perspective as well.

In the lineart section, I like how the artist is encouraged to "make interesting compositions with forms and lines". It forces the artist to think for themselves, which is something that not a lot of tutorials do these days, so I'm happy to see this.

My one critique for this work would be that it could use a bit more explaining. Rather than just say where the light source is, don't make too many details, etc. etc., give a tutorial on HOW ice captures light and HOW the shadows are formed within something that is supposedly translucent.

However, on the flip side, this could be considered an advanced tutorial, where we can assume that the artist viewing this tutorial already has background knowledge on intermediate level art techniques.


All in all, well done!
The Artist thought this was FAIR
49 out of 53 deviants thought this was fair.