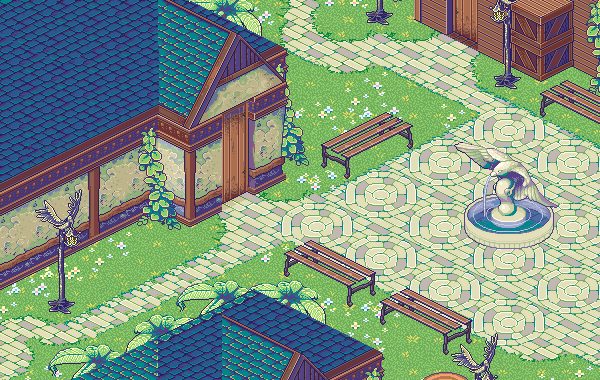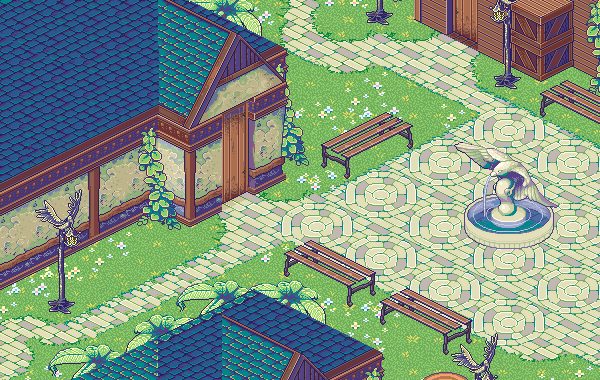 Watch
March 3, 2015
: I just updated the file to include additional tiles and animations.

EcoVerse tiles were sold to Starlight Escape in Furcadia. I am in the midst of
doing a new tileset
, which is not isometric, which will appear in my online portfolio.
Follow me on deviantArt
and
Behance
so you don't miss it.

=================================


Jun 13, 2013
: I just logged in to see I had received a Daily Deviation on this! Thank you so much
ClefairyKid
and everyone for all of your comments and feedback! I apologize ahead of time if I can't get back to you but I read every single one! <3
The WIP Town Square for R'haven Harbor! A part of the EcoVerse RP community on
Furcadia
!
I like it better with the palm trees and Raven fountain.

Those buildings are a little better too! Trying to stop being so anal retentive so we can launch already, though. XD
=================================
RP with us at EcoVerse!
=================================
Sorry, had to upload this new file! dA wouldn't let me update the old one because it's a .GIF and not a .PNG. GG dA! Now with animated fountain!
Daily Deviation
Given 2013-06-13
It's a cool little game world. Different planes are easily distinguishable, and color scheming is solid. While heavily stylized and a WIP, the next step is probably to avert what's probably the most common mistake I see when I look at game graphics- individual game assets in disunity.

The houses, trees, pretty much everything else casts no shadow despite the choice of colors clearly suggesting a sunny day. That will make your props look out of place when it doesn't look like they physically belong.

Shadows will also help add depth, knowing how MC Escher had plenty of fun with parallel projection when taking advantage of the lack of depth that can result from isometric projection.

I dunno if laymen would be able to notice the weird lack of shadows, but I think it is certainly an interesting observation much like a vampire without a reflection.

I also think tiles are a lot more presentable if they have characters in them... just a thought.
The Artist thought this was FAIR
36 out of 37 deviants thought this was fair.