Commissions are closed till my presents commissions are done!

I've been working for latests commissions for too long, so, to make it more easy for you, I'll use slots. So, you won't wait for your commission for a 1000 years, and I'll organize my time better.
Slots are divided into 3 categories. Queue of all 3 categories don't depend on each other.


Prices: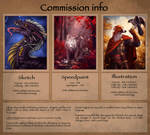 This note is active as long as there are free slots!



1

category

: Sketches. - CLOSED

2

category

: Speedpaints.

- CLOSED

3

category

. Detailed illustration.

- CLOSEDWaiting list:

westeroshistory (speedpaint) - in progress