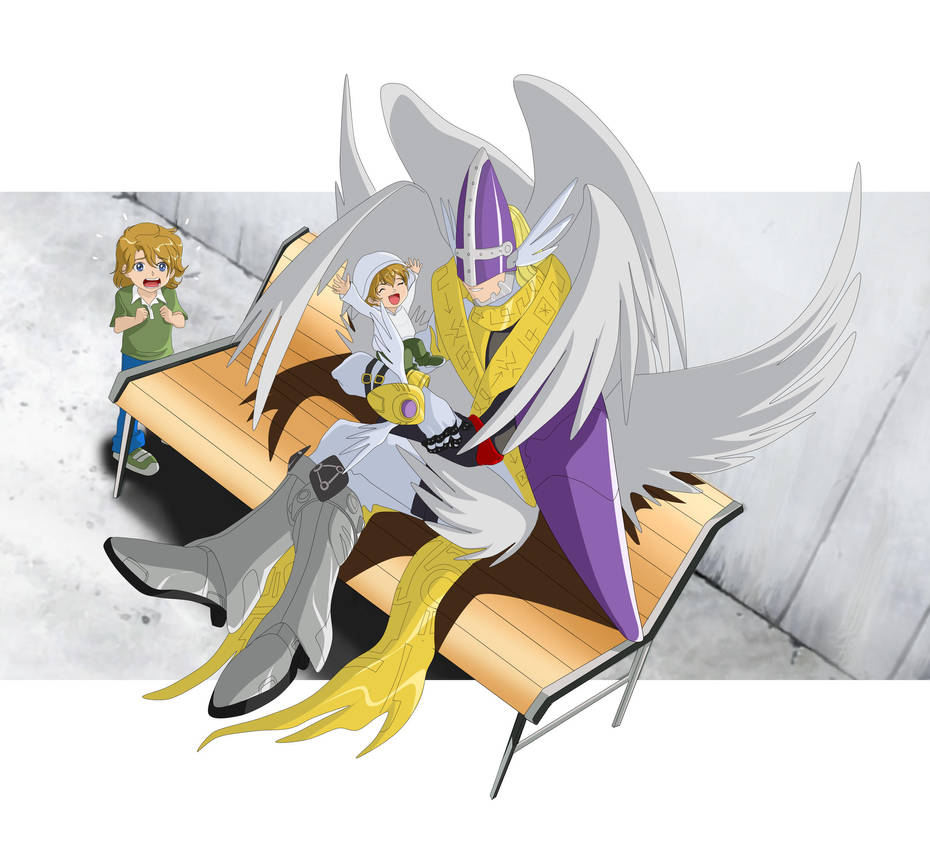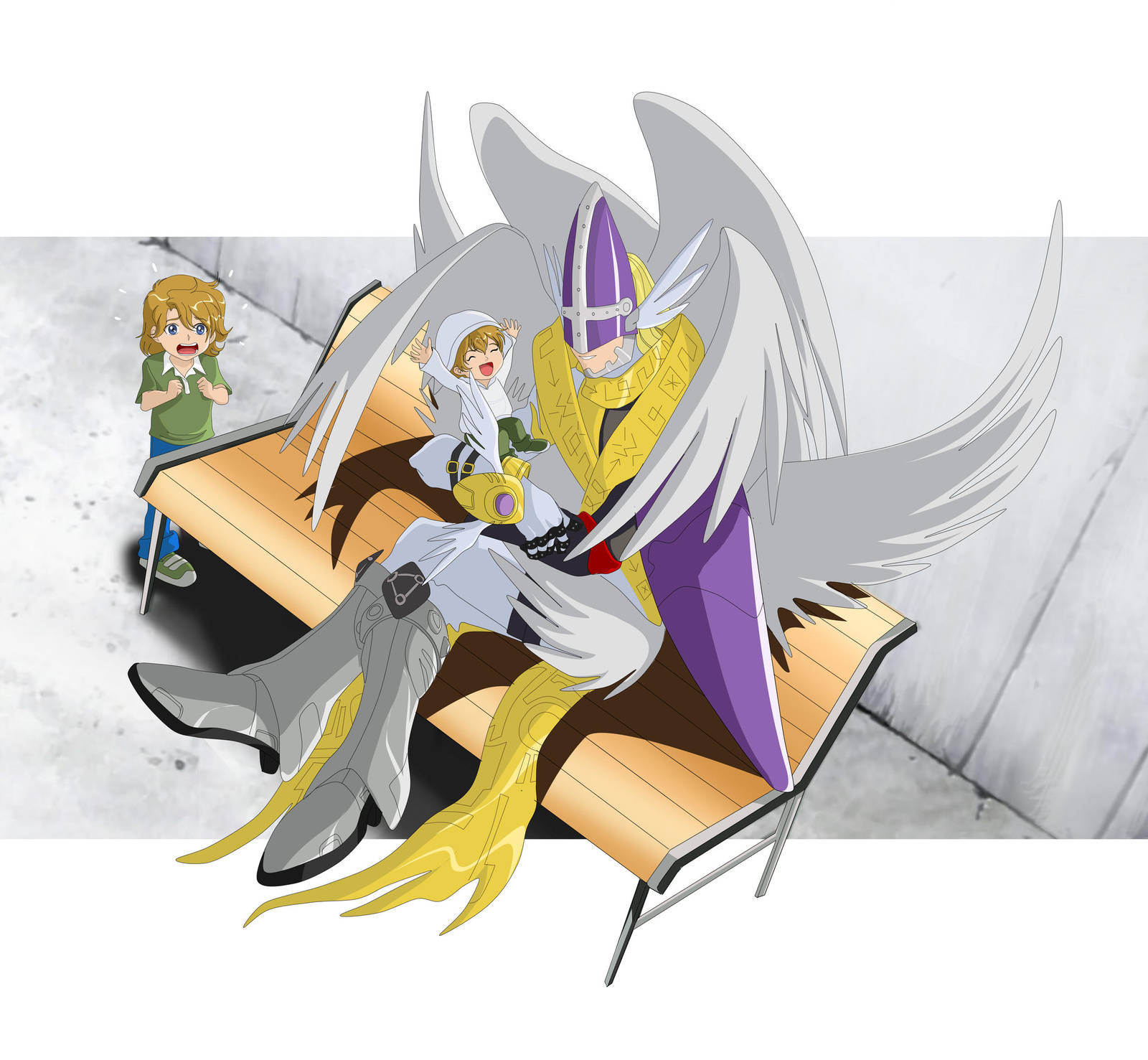 Watch
Yammato Ishida was 5 and Takeru 2 when they had a special encounter with a wandering HolyAngemon...
From my digimon fanfic:
angeangemon.wordpress.com

T.K. looks so cute happily playing with MagnaAngemon while Matt flies into a panic. Just curious, what would they say in this picture, like in your words when T.K. meets MagnaAngemon and begins playing with him and then Matt finds him and starts freaking out, before learning he means no harm?
Reply

Takeru meets a HolyAngemon as a tot and later on recives one as his partner. Is this some fate or destiny playing a part?
Reply

Yes! This Magna Angemon belonged to Angewomon´s timeline (remember Angewomon and the child piccie?)
He was supposed to have died while defeating Zeedmilleniunmon , instead he found himself in 01 reality.
He was as weakened and sad as his Angewomon, more on the verge of dying until he´d been approached by Takeru. (I will write a mini-tie story expanding this scene)
Matt freaked out seeing Tk playing with the angel until the angel demonstrated he was the real deal. Because Natsuko searched frantically for her kids Magna Angemon chose not to be visible to her eyes. Unlike Angewomon, he decided to use what remained of his forces to teleport himself to the neighboring digiworld and being reborn into an egg. Years later, when the kids were summoned to the digiworld, Tk will meet Patamon. Magna angemon´s spirit reincarnated inside Patamon´s body although without memories from his past life.
When he emerged finally as Angemon and died, as the fic dictated, his sould couldn´t go back to Tk´s side and ended meeting Nova in reality 012 digiworld

So FATE played a HUGE DEAL!
Reply

Oh My Data

. I'd got five things that I like about TK and MagnaAngemon.
1: TK is very happy to be MagnaAngemon in digital person. That could explain why TK got Patamon in the first place.
2: Is this MagnaAngemon is TK's original Angemon before he sacrifice in front of Devimon?
3: I agree with Flapinko that MagnaAngemon (Jap: Holy Angemon) WOULD make an excellent father figure to him. Or is TK is the son of MagnaAngemon?
4: I think that Matt is very upset that TK is hanging around with MagnaAngemon that he could tell his mom about an unknown Angel. Trust me, their mom is very over protective onto them.
5: I like the idea how you draw Matt when he was 5, I can tell that Matt does have a same face like his mom and I can see that Matt is very protective to his little brother.
How about that Kari meet Angewomon at the age of two and Tai is same age of Matt. That would be great to see them in person and of course that TK and Kari don't remember them because they're 2 years old, that they have no living memory about them.
10/10 for your excellent artwork and

Reply

1: Absolutely sure!
2: You are right! This is Ange´s previous life before becoming Tk´s first Angemon before his noble sacrifice
3: Tk certainly wished he was his real daddy! But no, Hirokai is both Matt and Tk´s true biological father (althoug Natsuko would be TEMPTED to have a digital angel as a lover

4: Tk wandered by himself from the park and Matt , when noticed, ran frantically looking for his little brother. When he finally finds Tk Matt certainly freaked out seeing him playing with Magna Angemon. At first he believed they met a cosplayer but then Magna made several magical tricks that left both of them in an awe.
Magna Angemon eventually admits taking a liking to both of them and before leaving, he said: "In a not far distant future, we´ll meet again"
5: I always thought that Matt had more resemblance with his mom than the father and since he has memories, of course he´s been watching over his little brother!
I like the idea of Kari meeting her future Angewomon! I may add that scene was well

Reply

Holy Angemon would be a good father figure to them.
Reply