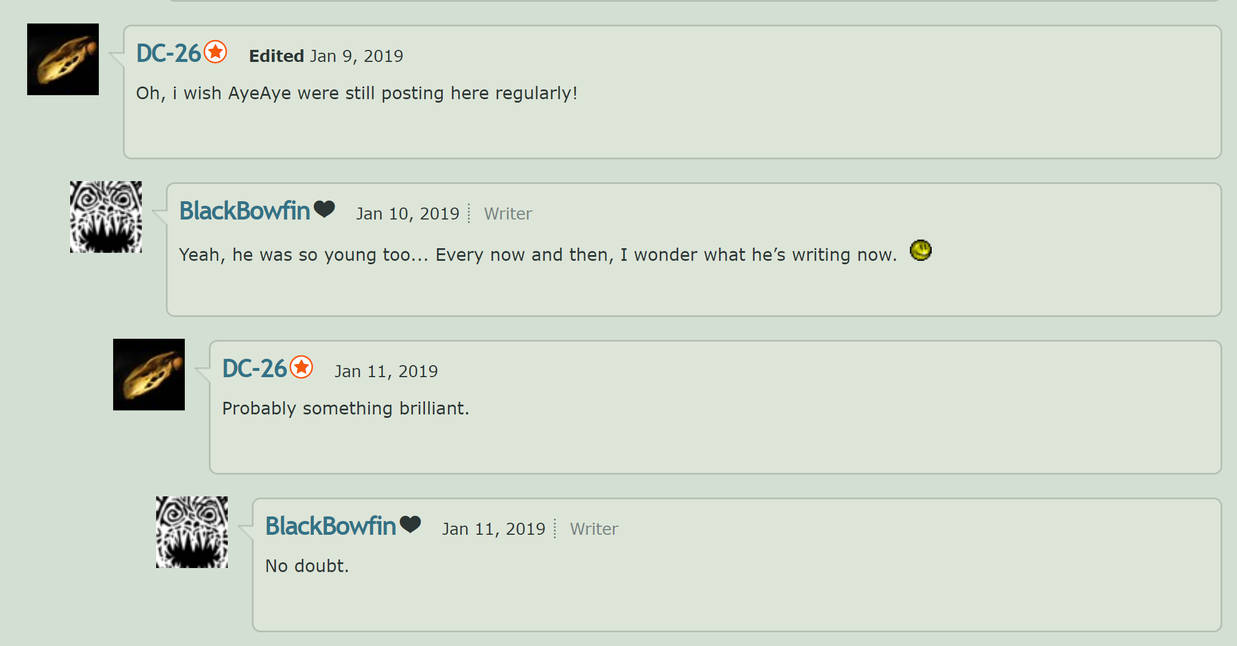 oh,
BlackBowfin
,
DC-26
, you lovely lovely lovelies, 2 too kind.
well, first of all, you can find me on
Twitter
, or feel free to private message me here for Facebook if you are inclined/close
i am v much still alive & kicking & working my butt off to make writing my central Thing before i graduate (aH)
I wanted to find a hyper-obscure term for, like, the type of neuron that specifically deals with time, a term that I used in a
palladium-smoothie
"""play""" ages ago, but couldn't find it. Did go back into a wormhole and found myself back here, though! I feel I should have something more profound to say about all this, but I will just shelve said salience for when I do a writing project about digital communities &c&c (a general procrastination mechanism I employ a lot, lol)
so anyway, here's me:
-i'm now 20
-i'm about to finish my 3rd year of a 4-year English literature course
-i am regularly performing at the open mic scene here in [Uni City] [which honestly you can easily infer from my Twitter account so keeping up the secrecy here is strange but o well] - i have shows this evening, one on April 5th, one in London on the 19th, and another on may 21st that i am organising
-i am starting to get paid of my work!!!!!!! i was invited to speak on a panel in Glasgow back in November, and a did a spoken-word headline gig thing back in January. stupefying and also reassuring
-i have a novel i finished in 1st year & have been sending to places (going to start Phase 2 of that soon, yikes)
-i have a feature-length screenplay me and a friend are going to start pitching to studios
-i have a short-film screenplay me and a friend are going to make (she just directed a short series for BBC iPlayer, she's incredible)
-i had my first staged play back at the end of February in Glasgow
-i lived in Dublin for four months as part of uni; traveled around Ireland & met cool Trinity people (might be back there in summer, performing for a literary festival)
-trickling into magazines, slowly and very VERY steadily (

)
-worked at the Edinburgh Book Festival '18 as bookseller
-i got an analog synthesiser! Korg Monologue
-started an arts collective in [Uni City] with friends. we've done events with cool BigBoi Scottish writer people, local festivals; we've done flat parties (including one where a friend & experimental electronic musician & live drummer for Kero Kero Bonito(???????) DJ'd); got a magazine in the works (we have entries, we just need to, uh, do the rest); planning a film festival; etc. Lots of fun! and work!!! ah!!!!! but i had a meeting with someone from National Theatre of Scotland when they came up to [Uni City] just at the start of the month, so i think it's paying off, lol
And in case this all seems like I'm doing far too well/boasting - I am very broke, broken-hearted by Bois, surrounded by far too many books i am reading far too slow, my chronic eczema flares up in the most wild and disgusting ways if I'm not careful and, despite it being 1:20pm, i have still not left my bed.
I really want to collate the best pieces from my DA trifecta and maybe, like, self-publish it? would be nice to have a comprehensive & curated Thing of this period of my writing, yknow
ah, i miss the free-form of writing a DA journal. nothing quite like it.
&of love to you all ofc xxxx
how are you all doing?