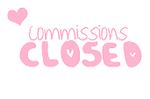 The final work may/will have my name or signature somewhere it won't affect the overall look.

I may publish the commission in any of my galleries or choose to do whatever I want with the picture or even sell it and you may do the same.

Please Limit Corrections during the sketch and lineart stage, after you okay the lineart-- once I start coloring, no more alterations will be done to the lineart once you approve. After that, You may ask for color corrections only.

You may not claim it as done by yourself. If you want to post it in your gallery site, credit me (a link back to my gallery or face-book page is always appreciated).

If you are requesting your Original characters, a Reference image(s) is a must
(Just to give me a basic idea on what you want, so we are not too far off on what you want)
ex. age, personality, interests, expression, mood of the picture you like---- etc.

To make sure you are satisfied, you may request progress work and ask for corrections (WARNING)I am not skilled at drawing males older then 18(lol), but if you want me to try I will try my best else-wise. Please be aware of that before commissioning me.

I am opened to 18+ art.
Prices:

Headshot --------$50

Half Body/Chibi--------$85

Full Body--------$130

Background: Free simple patterned BG
I won't draw:
Furry (Characters with ears or tails are ok)
Mecha/robots
violence, guro
Order Template:
• Payment method: (paypal only)
• Commercial use: yes/no
• Character name:
• Character personality traits:
• References:
• Background: (simple or transparent for free)
Paypal Only
Shops
Etsy
Facebook
Patreon
Instagram
YouTube

Patreons:
please check out their awesome pages and give them some love! ////v\\\\ HUGE THANK YOU