A mere eleven years ago, deviantART met its humble beginnings. Since that time, we've grown to be the world's largest online art community, but even a site as massive and established as deviantART had to start somewhere. We never forget those few small sparks that launched deviantART to be where it is today, and that's what we're celebrating during our birthday season.
For this year's community event, we're embracing the idea of starting small and creating something amazing from just a few quick sketches. We've started this work for you and challenge you to finish it with the pizzazz that only the best art community in the world could do. Let your imagination run wild!


We've given you a random combination of lines in the downloadable pack below. Your challenge is to look at the drawing creatively and find an object or scene within the randomness to bring a whole new meaning to the piece. Use these few lines to bring this skribble to life!
Download Template

What do you see when you look at this skribble? Maybe you see two unicorns engaged in an epic battle of survival. Perhaps you see a desert oasis, filled with palm trees and delicious drinks. Or could it be that this is the lost underwater kingdom of Atlantis? However you're inspired, we want to see it!

You can do a lot with this skribble. You can print it out and use traditional methods to craft your entry. You can digitally recreate it into a masterpiece. Your creation is completely up to you!
Submit Artwork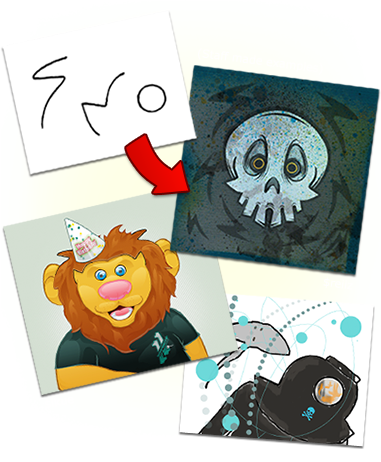 The skribbled lines must appear in your entry exactly as they appear in the download. You may not move or alter these lines in relation to each other.
The original lines must be clearly visible. No covering up or deleting these lines! You may trace them, but we must be able to easily see the original lines in your work.
You may rotate the set of lines as a set of lines in any direction you'd like within your entry.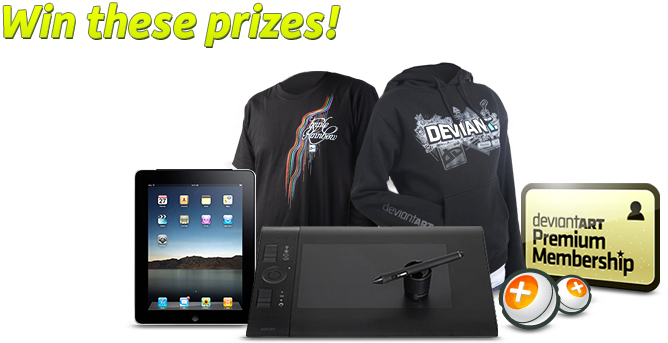 Apple iPad2 (16GB)
Wacom Intuos4 Medium Tablet
8,000 deviantART Points
a deviantWEAR hoodie of winner's choice*
and a one year Premium Membership to deviantART.
(*depending on availability)

Apple iPad2 (16GB)
Wacom Bamboo Pen+Touch Tablet
4,000 deviantART Points
a deviantWEAR T-shirt of winner's choice*
and a 6-month Premium Membership to deviantART.

Apple iPad2 (16GB)
Wacom Bamboo Pen+Touch Tablet
1,200 deviantART Points
a deviantWEAR T-shirt of winner's choice*
and a 3-month Premium Membership to deviantART.

22 Semi-Finalists will each receive 1 Month Premium Memberships to deviantART


This contest begins August 1, 2011 at 12:00 AM Pacific and ends August 22, 2011 at 11:59 PM Pacific. Semi-finalists and winners will be announced shortly after. There will be 3 prize winners and 22 semi-finalists.
This contest is international and open to every deviant who is at least 13 years of age and a member of deviantART. Membership to deviantART is free. No purchase is necessary to enter the contest. Contest is void where prohibited by law.
Enter as many times as you wish, but you can only win once. Entries must be made after the start of the contest. All contest entries must be submitted as a deviation to: Contests > 2011 > 11th Birthday Contests > Skribble.
Read the rules

Winners will be judged based on creative use of the lines, artistic merit, and cleverness.
Submit Artwork
Browse Entries
11th Birthday Events