Art We ♥ is a hand-selected art feature, chosen by deviantART staff members, showcasing art we believe the community will enjoy.

Some thoughts from Toby (Ayame-Kenoshi)
"If you could have any super power, what would it be?" I think it's a question we all have to answer at some point. We're innately curious about the unknown and enjoy diving into the depths of imagination. We know it's not possible, but we can't shake the question of, "What if?"
I don't think my answer has changed since I was asked as a child. I never saw much need for invisibility. I don't think I would enjoy being a mind reader. And sure, shooting laser beams out of my hands would be fun, but there's something that I've always been drawn to more.
I would like to fly.
To me, flight represents freedom. It's the ability to travel around without borders, coming and going as you please. I initially associate it with being closer to nature, as well, something I really love. With modern transportation, the desire to fly is a little closer to becoming a reality. Still, until we sprout wings, it looks like flight will remain a dream.
Keep dreaming and flying, my friends.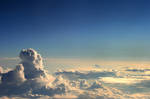 What about you?
- What super power would you want?
- What does flight represent to you?
Share your thoughts in the comments!