If you're interested in a canon, non fan-based game that's a pseudo-sequel to this one, check out Axugaem2, which is in development right now!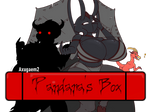 1.0:
BUG FIXES/TWEAKS/REMOVALS

- Fixed the Flooded Ruins not actually taking your money
- Fixed a few minor bugs that allowed you to walk in shadows on mountainsides.
- Fixed Claire not having a sprite
- Fixed numerous visual bugs after the final boss fight.
- Removed the clock ticking from the slot machine minigame and made it slightly less inconvenient to walk to it after every spin.

ADDITIONS AND REVISION

- Added a few extra encounters to the Holy Binder Club and a new piece of armour.
- Added a code machine in the JnA Pub. Now you can use codes you get throughout the game to unlock random stuff!~
- Made the final boss a bit more difficult.

---



Download Axugaem here:
I am in the process of providing three links below to reduce traffic issues. They all lead to the same file.
Link 1:
www.mediafire.com/?71bdhv3mn15…
Link 2:
www.dropbox.com/s/xzw2ocwa1pt2…
Link 3:

Download the proper RunTime Package (VX, not VX ace) here:
www.rpgmakerweb.com/download/a…
To play: download, extract, click the unicorn chess piece icon called 'game', enjoy.
Controls are: Z= select.
X= Open Menu, exit menus, back button
Shift= hold to run (important, considering some sections will be timed)

F1 = Opens a basic options menu for things like fullscreen, sound control, and gamepad configuration (yep, this works with a controller)
ALSO READ DIS:
I couldn't encrypt the files, so... unless you want massive spoilers, don't stray from the main folder when you open it up to play the game.


FAQ:

Q: What is this?

A: Axugaem is an RPG made using RPG Maker VX. It's non-canon, or set in an alternate universe/timeline, depending on how you want to think about it. It's sort of similar to Final Fantasy if you aren't very familiar with the RPG genre.



Q: Is it free?

A: Yep. Just download it via the link above and you're good to go.



Q: Does it have bellies/NSFW stuff?

A: There are quite a few belly-centric scenes throughout the game, so best of luck finding those. As for NSFW, it's certainly not explicit or graphic. Worst you'll find in here are some implied vore scenes, burp sound effects, and a few sprites with bellies~



Q: Will you be putting it on Steam Greenlight or anything?

A: Nope. The soundtrack isn't mine and some of the characters are based on existing franchises, so this is considered a noncommercial fan project. I'm not going to make any money off it.



Q: Who the hell is that red chick with the blue hair?

A: Play the game and find out~



Q: Will there be a walkthrough of some sort?

A: I won't be making one, but I have friends who have stated there interest in doing so. For now, feel free to comment below if you're stuck anywhere. Someone should be able to help you~



Q: WHY CAN'T I FEED ANYA MINIGAME!?

A: If you gave Anya's File to Nell, you can't play the minigame... unless you have another file. Try entering the cabinet code you receive in world 2 into the code machine in Axuguu Town if you traded away your file~ And let me hear no more of this

Axugaem is (c) Me
Image details
Image size
1080x1080px 772.1 KB