I tried posting a thread in the forums. In thumbshare in particular. I was really happy that there are people who posted their first and latest artworks on the thread. It was really fun looking at their artworks and there are really some who has some amazing improvement! So for all those who posted in thumbs there, A big thank you to all! I wanted to socialize more online because quite frankly I'm quite tired of hiding from the world so the forums is a little baby step. Also, I was able to find some awesome artists lurking around. What I learned is that socializing really takes a lot of time. Even if I just want to log out and just keep on drawing I have to give time on communicating with others so that more people will be able to see your art. I'll probably gonna choose Sundays in doing social activity. I can do it on weekdays but at a limited time cus I'd like to focus on my artworks on those days.
Anyway, Thank you for those who added me to your watchlist. Although I only post finished art here. I decided to post WIPS on my instagram:
instagram.com/avimharz
So if you like to see how messy my wips are, whatever random shiz I post, you can follow me there.
And here are some latest artworks from yours truly: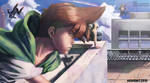 and this one: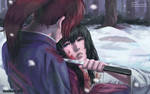 this unforgettable scene from Rurouni Kenshin. I never get tired of watching the OVA.
I hope we can be friends and let's have fun!