OPEN FOR COMMISSIONS. for details please check my
other journal.
Point Commissions can be negotiated. Note me if you're interested.
--
I should probably lower my prices to get some clients but hey, I'm pretty busy now so I'm not changing any prices YET.
--
So um... yep today, I did not open my photoshop at all. I don't know. I just don't feel like doing something digital today.
But art is not found in photoshop alone... no... no... no... but of course, you already know that. Instead of doing stuffs digitally, I picked up my pencil, grabbed some paper and drew some pretty pathetic sketches.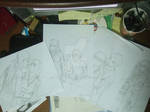 just click on this for larger view.
I hope it's clear enough for you to see. hehehe...
Ok. I didn't draw this randomly, because these are some illustrations that will be used for my friend's book EXCEPT, the one on the leftmost side. Ironically though, the first three sketches are couples which is ironically, not intended for valentines day.
This is the one that is intended for valentines day. Of course, it involves my favorite Original Character, Avi.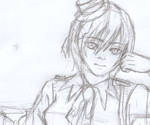 but... I will not be able to finish this on Vday.

I could continue and rant about what my mum said earlier this morning but I'll just keep it myself. I do my best not to get affected but I have feelings too. So after the book is finished I'll really work hard to advertise my commission services so I can make some cash and be involved in the workforce somehow. Next question is how to do it which is I don't know the answer yet.
Anyway, this is it for this night. Thank you for reading my rant i mean my journal.