COMMISSIONS ARE OPEN for details click the
avimharz.deviantart.com/journa…
note me if you're interested.
--
So my friend and I are going to publish a book next month. Well actually he's the writer and I'm just an illustrator. So henceforth, it's a joint work. It's actually self-publish because we'll be the one who will market it. It's not on bookstores. But he has a huge fanbase so there's no need to worry if the book will sell.
So yeah I'm pretty darn excited about this. At the same time, I'm pretty tensed. I'm pretty worried if my illustrations are good. I can't really judge well. But he said that it is good so I guess I have to believe him hahaha.

I was hoping that I could find my breakthrough on the book but, expectations may only lead to disappointment so come what may and I'll just go with the flow.
Anyway, I'll be doing another art trade and I'm going to finish it within the week. Yeah, I will.
I'm feeling pretty good right now. I made 2 artworks in a short time. (1 last night and 1 today) I'm like a shanghai roll again.
And my latest artwork adds up to my temporary happiness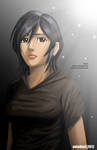 omg I can't stop staring at this. I hope you can forgive me for my silliness hehehe.
So anyway, I really am having fun in doing artworks and there's nothing that I love than this.