the disruption is over now so I guess I can go back to my normal work pace now provided I'm not gonna laze around... Yahh... it feels like a ton of weight has been released off my shoulders... and now, I can just sit back and relax and draw as always...
Yesterday was like one of the longest day of my life... I left the house at 6am and I returned at almost 11pm... I stayed at the studio for almost 13 hours which is really record-breaking in my part... and I have never drawn so much up to the point that my drawing hand started to hurt... I was never really the type of person who pushes her body to the limit. That is like the first time I really pushed myself really hard... I mean really really hard... but it was all worth it...
and I can't believe it's already 3months since I started training... time really sure flies fast... I'm not really sure what kind of future I will have when I finish the training cuz if the studio won't absorb me, I'll probably be worrying about my life again. Sometimes I wish the training won't stop... I really am having fun being with my friends there. It's really an amazing experience being there...
and OMG I'm being a fan of yuri once again... I had this when I was in highschool then I stopped when I went to college and now, it's slowly returning again... ugh... so anyway I'm watching a yuri anime called Strawberry Panic and Shizuma Hanazono caught my attention... LAWL... and for some reason the beautiful anime girls that always catch my attention are mostly lesbians... it's so insane...
So off to important stuffs...
I'll be doing a price hike soon so please stay tuned for updates...
One last thing... I'mma show ya a scrappy sketch that I did as a warm-up for the battle I had yesterday.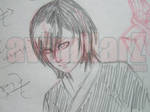 I accidentally drew Avi smiling it almost like she wished me good luck yesterday...