Hey there! I am avimHarZ and welcome to my dA profile. I am of course an artist although I'm still pretty far off from being a true professional but I am trained professionally. I also have some experience in working in an animation studio.
The avimHarZ name is actually a fusion of two names. Mharz is the nickname that I made for my friends to call me and Avi is the name of my beloved Original Character who represents me. She's this one: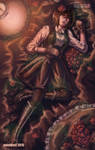 My art of interest is digital art that focuses more on characters. I can draw, color, digital paint, and animate characters. I have also some experience in drawing backgrounds as well.
I am currently working on my webcomic series entitled, The Angel with Black Wings. It's a story about a guy who can see the angels and became friends with the Angel with Black Wings.
These three are the main cast: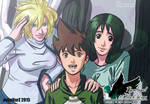 Some info on the series:
avimharz.deviantart.com/galler…
I hope you find my art interesting and don't forget to add me on your watchlist!
Please don't forget to add comments as well. I'll make sure I'll reply to them!
--
Webcomic:
tapastic.com/series/tabw
Favourite Visual Artist
Shilin
Favourite Movies
Miyazaki Movies
Favourite Bands / Musical Artists
Coldplay, Panic! at the Disco
Favourite Books
The Little Prince, Maria-sama ga Miteru, Gakuen Alice, Kare Kano
Favourite Games
Assassin's Creed, Final Fantasy, Prince of Persia
Favourite Gaming Platform
PS3
Tools of the Trade
pencils, paper, pen,wacom tablet Photoshop, Flash, Toonboom Studio, Spine
Other Interests
Manga, Anime