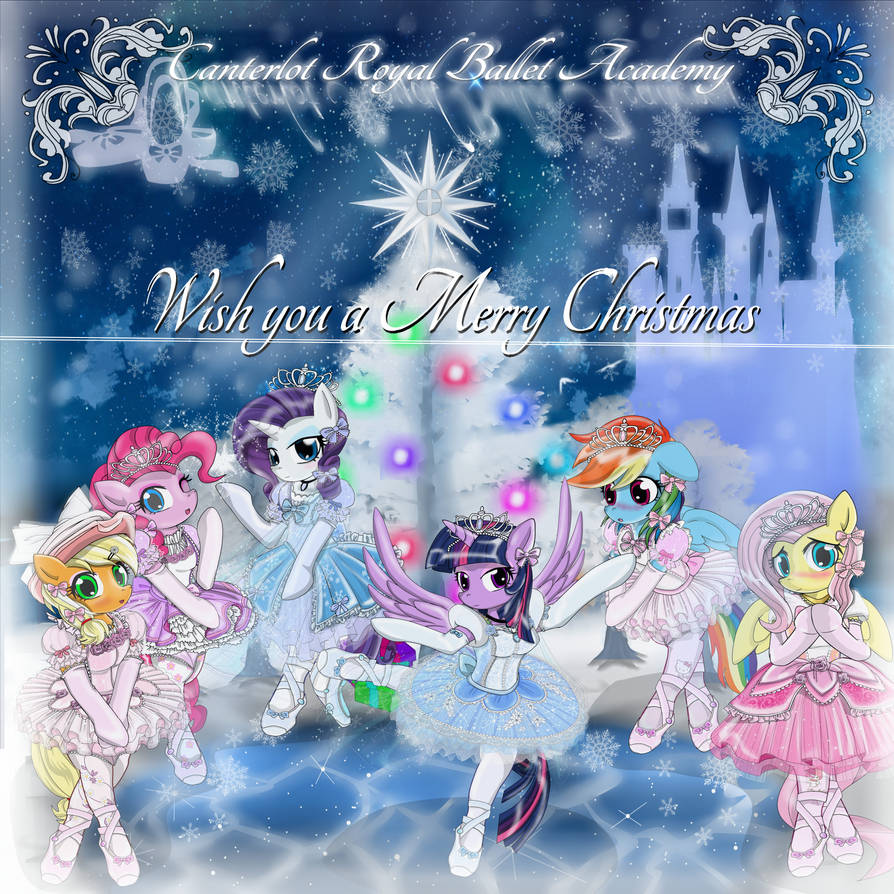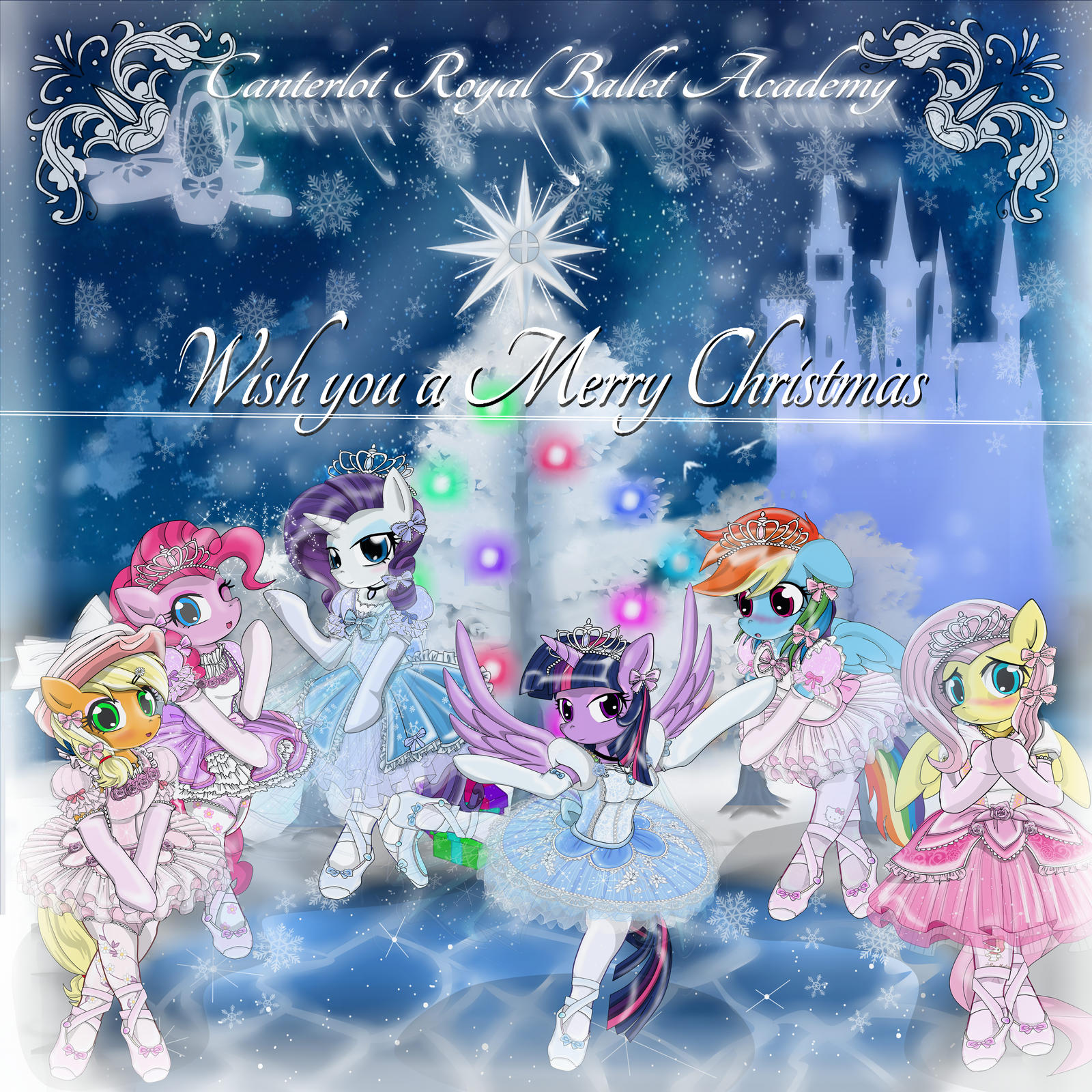 =======[English]=======
I, Sean.M here
Want to present this gift to all the audiences whom support this "Canterlot Royal Ballet Academy Series" for all time, thank you.
This series from started till now it's almost an year, or 11 months actually.
Many beautiful little ballet ponies , those innocent pretty and adorable little ballet princess giving us the power of dream and fantasy, and now , they are going to perform the geartesr performance , for this beautiful snow falling seasons.
After last week post the "Galaciers fairy" , this time , M6 ballet princesses all are coming with their most beautiful and delicated ballet dresses, to wish you a merry merry Christmas and Heartswarming eve!
With this celebration, I also release 6 "The Mistletoe card"
The meaning of "The Misletoe card" is you can pick one of the ballet princess from M6 to be the one you want to kiss under the mistletoe, and sorry there only M6 , could be release more next years. And they have their own dialogue to respond your kissing, you can download the picture and print it, as your own special Christmas gift form those adorable little princess
This was suppose to be also release the new track of "The diamond music box" but time is short and lots to do, so I want to apology for the audiences who waiting for the new track of "The diamond music box"
But anyway, I want to thank you all, for supporting this series, hope they will keep dancing with you in the future, and hope you will all love their little adorable dressing and movement.
Once again, We all wish you a merry Christmas and hearts warming eve and happy new year.
Sean.M
========※CLICK THE LINK BELOW TO CHOOSE YOUR OWN MISTLETOE CARD※=========
◎Applejack: avchonline.deviantart.com/art/…
◎RainbowDash:avchonline.deviantart.com/art/…
◎Rarity: avchonline.deviantart.com/art/…
◎PinkiePie :avchonline.deviantart.com/art/…
◎Fluttershy :avchonline.deviantart.com/art/…
◎TwilightSparkle :avchonline.deviantart.com/art/…
==========================================
=======[中文]=======
成高心親王在此,為大家獻上來自坎特拉皇家芭蕾學苑系列最大的祝福,感謝大家長期以來對於坎特拉皇家芭蕾學院系列的支持
坎特拉皇家芭蕾系列自從成立到今已經快要一年了,其實應該是十一個月,在這個白雪紛飛的美麗季節中,芭蕾學院為大家獻上這最美麗的芭蕾舞蹈表演,作為坎特拉皇家芭蕾學院對於每一位支持者最大的祝福,感謝您們支持,以及感受這十一多個月來,來自芭蕾小馬美麗可愛、甜美的夢想力量和奇幻世界
在這裡祝福大家聖誕快樂,以及暖心夜快樂
而為了每個支持者,坎特拉皇家芭蕾學院特別推出「槲寄生祝賀卡」
你可以從M6中選擇一位您最心儀最美麗的芭蕾小公主作為您在槲寄生下接吻的對象,而這些小公主都會對於您的親吻做出回應,您可以下載這些圖片然後影印下來,作為您最精緻的聖誕卡片禮物
並且抱歉目前只有M6可以選擇,也許明年會推出其他小馬的
而照理來說,鑽石音樂盒系列也是會更新,但是實在是準備這些,外加學校的功課消耗了太多的時間和體力,熬夜數天數夜才完成這些,作曲已經時間上不夠了只好作罷,因此在者裡要跟等待鑽石音樂盒系列更新的樂迷們表示抱歉,但是鑽石音樂盒還是會繼續更新的放心
最後,祝福大家聖誕快樂、暖心夜快樂和新年快樂
坎特拉皇家芭蕾學院與親王在此 敬上
=======※槲寄生祝賀卡連接在此(中文):※=======
◎Applejack: pan.baidu.com/s/1pKGIoX1
◎RainbowDash:pan.baidu.com/s/1i48gZBn
◎Rarity:pan.baidu.com/s/1hrGq2Pm
◎PinkiePie :pan.baidu.com/s/1ge8ldvH
◎Fluttershy :pan.baidu.com/s/1skECq4H
◎TwilightSparkle :pan.baidu.com/s/1kUEi86b