Completed commission for

!
Original preview sketch :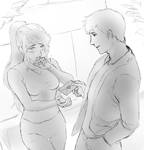 ___________
[ ★ Commission Details ★][ ⚜ Set Price ⚜ ]
( YCH = Your Characters Here commission)
[
✦ 65 USD
✦ ]
Simple background included
Recent style examples :
[YCH] Spellcaster
||
[YCH] Brush bonding
||
[YCH] Flower shop keeper
Comment with something like "I'm interested" and I'll note you for the details!
>>> For holds please note me before claiming!
______
[ ✦ || Other Details || ✦ ]
★ The sketch above shows a guy and a girl but I'm okay swapping genders
★ Please have complete drawn character designs ready, I don't work from text
★ All payments are through
paypal
invoice (or crypto, XRP or XLM preferred)
★ Personal, non-profit use only!
★ The final piece will be one flat png file, about 3000 pixels on widest side
★ I'll show a work in progress shot, for any changes before going to the final shading and detailing

Timeline : 2-4 weeks for wip check in, 2-3 weeks after that for the final piece
★ I reserve the right to refuse a commission for any reason!
Also! I'll update this deviation with the completed drawing!
As always, thanks for taking a look and supporting my work! ; ;
Image details
Image size
876x920px 1021.97 KB