The contest is closed!  Voting has begun!
CLICK TO VOTE!
Voting ends OCTOBER 1st.
  Good Luck everyone!

,Come one come all!


In light of the new Riders of Berk TV show that just hit CN, I am holding a Medieval Modern Family coloring contest. I want to see your beautiful colors!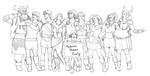 Medieval Modern Family PNG file

Prizes


First place: 60 points, an artist feature, and a finished art piece or a one-shot

Second place: 40 points, an artist feature, and a lineart

Third place: 30 points and an artist feature

Artists features aren't limited to drawing-art, but I can feature written works/cosplays/crafts as well; whatever the winner feels most proud of.
If a participant doesn't have a deviantart account they can receive a free sketch instead of points. First place can have three character sketches, second place can have two, and third place can have one character sketch.

Mini-contest
Think the task looks too daunting? Every character is drawn individually, so you are welcome to note me for an individual.  The best individual picture will get a full-bodied character sketch or a torso-and-head lineart.


Deadline

The deadline is set for the
September 16
, but it is subject to be pushed back if need be.
I really hope you guys decide to participate.  Voting will be decided by polls.  If you have suggestions for alternate prizes just let me know.
Leave a comment if you
are
participating so I have a good idea on who is a part of it!


Ahh, never mind, I had the wrong date written down

so much with school going on, oh well, I'm gonna finish it anyways and send you a link