Because I have been getting a lot of questions about my plushies, commissions and plushie-making in general, I decided to set up this FAQ. It will be expanded as necessary, so if you feel something has not been answered yet here, leave a comment and I'll decide if it's useful to add it here

About me and my plushies


For how long have you been making plushies?

I started somewhere in 2011 I believe, it started off slow but once I got the hang of sewing and got my first good fabrics that did not stretch, it quickly became a large number of plushies! As I write this, I have more than 80 in my gallery and even more yet in the making. I don't expect that will change soon

Why did you start making plushies?

As a kid I was always collecting plushies, I still have them stored away safely. But I was often frustrated because the animals I wanted plushies of most either were unavailable to me, or they did not look like the represented animal enough! This played a huge part. The other thing was that I was creating more and more original characters, of whom I wanted plushies. The third factor were the examples I saw on the internet (and Deviantart) and the teddy bears my mother had made herself. We have a few in the house and I always thought they were cute. I suppose my love for plushies and my love for creating art were bound to collide one day!


How did you start/how did you learn to make them?
I learned sewing from my mother, who taught me the basics of the various stitches, how to choose fabric, how to read patterns and how to attach glass eyes and plastic teddy bear joints. With that basic knowledge I scoured the internet, reading many tutorials and using various free plushie patterns. I tried to use these patterns and learn how they were constructed and more importantly,
why
they had the shapes they had. It did not take me long to figure it out and start experimenting with my own patterns.
What materials do you use?
By now I've gathered a lot of different materials, but most often I use these materials for most plushies: woven faux fur of the Steiff Schulte brand, german glass eyes (which are attached
after
the plushie is stuffed and closed; it's usually the last thing I do before adding the final details), polyester stuffing, plastic pellets (the little grains you always feel in commercial plushies). By now I also own some knitted faux furs, which are cheaper but have a less strong backing (they must have as little stretch as possible), some Tissavel faux furs, plastic safety eyes, various mohair and alpaca fabrics and minky. I like to be able to choose!
Where do you get your supplies?

From many different places! I live in the Netherlands, and generally I find it very hard to get decent faux furs, so I import almost all of it. The Schulte fabrics and most of my other supplies come from this website:
www.probear.com/
I also get materials via Etsy sellers and by going to bear fairs (the only time I can actually see and feel the fabrics before buying). Because of this, I only buy fabrics I know I will use, even if no one commissions me for those colours. That is why I have next to no unnatural fur colours, also because it's hard to acquire them. The minky fabrics I all buy from this website:
www.plushaddict.co.uk/
How long does it take you to finish a plushie?

This depends on the size and complexity of the plush, but generally between 11-20 hours. This is spread out over 2 weeks at least. Sometimes I finish a plush in 1 week, but it often leads to pain in my wrist and a few days of rest afterwards, so I prefer not to sew too much per day (which is hard sometimes!!)
Do you use a sewing machine?

No, everything is completely made by hand. My family's machine is faulty, so even if I wanted to, I could not use a machine. I find sewing very relaxing and only for very large plush I'd want to use a machine.
About getting a custom plushie


Are your commissions open?

I have stamps on my front page that will tell you if they are or not

Where can I find information about your prices/possibilities?

Please make sure you read this guide: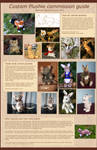 before contacting me about plushie commissions! Many of the questions I get asked most are answered in there, so please, read it.
What should I put in my note?

When you've read the guide and have an idea of what you want, and would like to know what it would cost, please send me a
note
(not a comment!) with the following information:
- One or more references of the animal or character you want
- The size you want your plushie to be, head to bum (many people forget this, but it's very important!)
- Faux fur or mohair (if it's a teddy)
- Floppy or stiff.
- What pose you want
With that information I can give you a quote, and from there on you can decide whether you want it or not, and we can discuss things further. You can always ask for a quote, even if my commissions are closed.
What will you make, and what won't you do?

I like variety, so if you wanted an animal I have not yet made, it does not mean I won't do it. Generally I'm up for new things, and most things go. However, there are a few things I will not make.
- OCs with many different bright, unnatural colours (because it is difficult to acquire them and I'm unlikely to use them again. An exception is made if you want a minky plush. You can always ask, but I can't always do it)
- Most copyrighted characters (Sonic, Digimon, Disney. There are a few exceptions: I'd be willing to make certain Pokemon and anime characters, like Akamaru from Naruto for example. You really have to ask for this)
- My Little Pony style plushies
- Clothes, long human-like hair and complex accessories
- Human plushies, or characters with a human face
How long does it take before my commission is finished?

This depends on various factors: how busy I am with university, how big and complex your plush is, if I have other commissions running at the same time, and if I have to order extra material for your plush, which has to be imported and may take a while. Generally speaking, it takes me between 3-6 weeks to finish your plush.
Do you take rush jobs?

Again, it depends on my own situation and how close the deadline would be. You can ask about this, but you'll have to be prepared to pay extra.
Do I get to see WIPs?

Yes, I always send a couple of photos along the way of your plush in the state it's in at that moment

How much is shipping and how long will it take?

Shipping is decided by country:
Within the Netherlands, it's €6,75 and it reaches you the next day, or the day after that.
Within Europe, it varies between €13 and €20 and as far as I know it reaches you between 1-2 weeks
Outside of Europe, shipping is €24 and generally takes 2-3 weeks, sometimes it's a bit faster.
You get track and trace service.
How do I pay you?

All payment must go through Paypal (Dutch customers can also pay through banktransactie). All payment must be in Euros. You can pay in two parts if you prefer. I start once (part of the) payment has been received, and I will ship out plush once all has been paid. Please mention your username an your character's name in the payment message!
Your prices are so high!

Fortunately I don't get this message often, but I feel it's necessary to address it here just in case. Custom made plush like this takes a
lot
of time and is very expensive to do in the first place. When I order a batch of fabrics, for example, I rarely pay less than €80. And you don't pay for the fabrics, you pay for a unique, handmade piece of art which is tailor-made for you. You cannot compare it to the mass-produced commercial plush you buy in toy shops. The prices I offer are the lowest possible for me without losing money on the creation! I get hardly any profit, so please do not say things like that. These Tumblr posts address this issue very well, it's really worth a read:
avanii.tumblr.com/tagged/prici…
About getting started with plush-making yourself


Do you know any free patterns/good tutorials?

All the patterns and tutorials I have found useful on DA are in my favourites folder 'tutorials and reference'. There are plenty of free patterns and tutorials for beginners on the internet, and even more if you're willing to pay a bit (I recommend searching Etsy for that). If I was able to find them, you will be too!
What should I look out for when buying fabrics?

When I started out I made the mistake of buying very stretchy low-quality faux fur. Everything went well until I started stuffing: the plush totally lost its shape. When buying fabrics pay attention to the stretch of the fabric! A little is okay, but the less stretch it has, the better! This is a good tutorial on choosing faux fur:
viergacht.deviantart.com/art/F…
Will you share your patterns/make a tutorial?

No, sorry. I do not share my patterns, though I might put one or two up on Etsy later. Not in the near future though. As for tutorials, I'm afraid I'm not going to do that either: I have no time nor do I know what I'd make it about

Everything I do is based on logical thinking and trial and error. It's part of what makes it fun!
Should I use a special thread when sewing plush by hand/Do I need many different colours?

Yes, you need to use a stronger thread than the ones used by sewing machines. You can try that out yourself: machine thread will snap quite easily if you pull on both ends hard enough. Thread made for hand-sewing will
not
snap, no matter how hard you pull. That's what you need! In all my hours of plush making I may have pulled hard enough to make my thread snap two times. It can happen, but you really have to work it

As for the colours, I use white, tan and black, depending on the colours of my fabrics. However, I've found that it only really matters if you use minky, mohair or felt. If your fabric has a longer pile (10 mm and up) and you sew neatly, it won't really matter much. Personally I'm most fond of my tan thread

---
That's all I can think of right now!
If there's anything missing please let me know