PLUSH COMMISSIONS ARE CLOSED

Thank you very much! The next opening will probably be around the end of March/beginning of April.
Please send me a note to claim a slot!
Just forward the conversation we had including the quote and character ref to claim.
See below for the rules.
Slots:

1.
bIacksmith
30 cm dog OC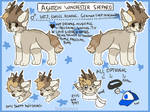 2.
DuchessLunaire
20 cm laying cat plushies based on pets,
2 plushies
3.
RewindGamer
30 cm coyote OC
toyhou.se/35116.rewind
(transferred from waiting list of previous batch)
4.
Treblematic
25 cm dragon OC without wings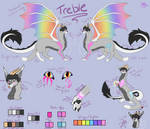 5.
WesternFreckles
20 cm cat OC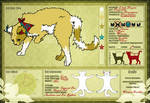 (transferred from waiting list of previous batch)
6.
PoonieFox
20 cm standing dog OC (minky)
toyhou.se/726805.otis

-------

Happy 2017! Time for new plushies! I was supposed to have an exam on the
17th of January
, but it got pushed back by a week, so instead, let's open commissions that day! Please get your quote in advance, it is much faster and easier to claim a slot that way

If you are interested in getting a custom plushie made for you, please read the following information carefully.

Here's how it works:

On
January 17, at 5 PM CET
I will be accepting commissions
(see here for a countdown:
www.timeanddate.com/countdown/…
)

There will be
5 slots
, with a maximum of 2 plushies per slot.

Get your quote beforehand please
. Just forward the quote I gave you and say you want to claim a slot!

First come, first served.

I can put 3 people on a waiting list if they just missed out on a slot.

Be ready to pay at least half in the first week after claiming a slot. Doing so will confirm your commission.

Payment is in euros only and goes through invoices

Claiming can be done through Deviantart and Etsy. Same rules apply to both platforms.
If you have any questions please don't hesitate to ask c: The two people on the current waiting list will be contacted beforehand, but their commissions will not be placed on the 5 slots mentioned above, but are additional. I have also decided to raise my prices a bit to reflect my current skill and experience (which is over 6 years and 220 plushies by now!) c: To get an idea of what something may cost, multiply the size in cm by 7 (so a 20 cm plush starts at €140).
To get a quote:

Send a
note
with the following information:

A clear reference of your character/pet/animal in colour (multiple pictures are even better)

What size you want the plush to be (be as specific as possible)

(optional) a link to an existing plush you like

Preference for material: faux fur / minky / mohair

Preference for eye and nose type: plastic safety / glass, plastic or embroidered nose

Your country
Other things:

Faux fur comes in limited colours.
I do not have unnatural fur colours
except for light pink! If your character has unnatural colours as their main fur, chances are I won't be able to accept them, unless you want a smaller plush made of minky. I have minky in all sorts of colours.

At the moment I do not accept humanoid characters as I am not confident in my skill with them, yet. Anthro characters are fine if their anatomy is mostly animalistic.

I can do jointed plushies (think teddy bears).

I'm okay with doing fanart plush of Pokemon and Steven Universe (and possibly others), but not Disney.
I think that's all!

I'm looking forward to see which characters I get to make this round