There's still some slots left!
This is the best time to order if you want a plush to be guaranteed delivered in time for the Holiday season!

It's time

From now till 7 PM CEST (an hour from now) you can send a note to claim a slot for a plush commission!
It's all the same as usual: 5 slots, 2 plushies per person max. Instead of first come, first serve, you'll have an hour to claim a spot and after that I will either accept them (if it's 5 or less) or choose the projects that appeal to me most (if there's more than 5 people). When the hour is over the remaining slots (if any) will be filled on first come, first serve basis. This should be less stressful for everyone

Please make sure you get a quote (via note) before claiming a spot
! Preferably before the opening day!
I am working on a price chart, but since it's not done yet here's a quick break down of the costs so you will know what to expect:

Plushies are priced based on size and complexity (roughly €7 per cm, nose to bum).
Always tell me what size you want for your plush, please.

Price quotes are without accessories. Please let me know if you want accessories so I can calculate the extra cost.

Shipping is additional and always includes tracking.
- Within The Netherlands it's €7
- Within Europe it's €15
- To all other countries it's €24

I can work with either faux fur, minky, or both. For characters with unnatural colours I can usually only work with minky. Please discuss this with me if your character has unnatural fur colours.

I work with both glass eyes and safety eyes, and can either embroider noses or use plastic ones. Which I can use for your plush depends on the colours needed (but in most cases you can choose!)

Payment goes through Paypal invoices and is in Euros. I require at least half up front to confirm your commission.
You can always send me a note if you have any questions, but please make sure you've read this first

I'm looking forward to see which cool characters I'll be turning into plush next!
Slots:

1.
PLUSHIETEETH
30 cm fully faux fur plush of canine OC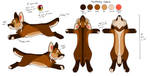 2. @
NomadicNova 35 cm faux fur and minky plush of wolf OC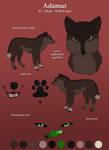 Confirmed
3. @
CorruptCorgi 23 cm faux fur and minky floppy plush of pet dog sta.sh/223xeodieqyc Confirmed
4. @
xXStormLilyXx 16 cm standing minky plush of wolf OC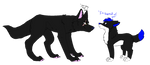 5.


(I don't know why the username tags keep breaking D: )