Like the title says, I'm open for all kind of commissions again, both drawn art and plushies! Below I'll give a new price list and examples as the other journal is really outdated already. Please send commission queries in notes as it's easier to keep track of than comments


Sketches
Portraits
: €5 to €10 per character, depending on complexity. Please give me an emotion or expression you'd like your character to have

Examples: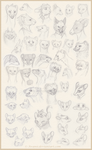 Full body:
€8 to €15 per character, again depending on complexity (complex markings, wings etc.). Please give me an emotion or pose you'd like.
Examples: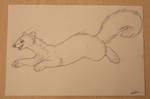 Also please tell me if you would like it to be drawn on ivory or white paper. All examples here are drawn on ivory.
For an extra €1,50 I will send you the original sketch (worldwide). Please let me know beforehand if you would like this

Digital art


Full colour, no shading:
€15 to €25 per character, depending on the complexity of the character's design (markings, many different colours, wings) and whether it's a feral or anthro character (anthros are more expensive than 'normal' animals). I can do a variety of styles so it'd be great if you could point out which you like most

I can add a texture for free if you like.
Examples: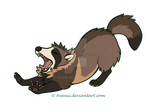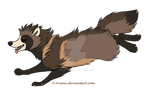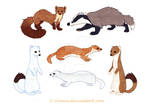 Full colour, simple shading:
€20 to €30 per character, depending on the complexity of the character, see previous option. Here, too, I can do a variety of styles so stating your preference is a good idea

Suggestions for pose, expression or emotions are always welcome! Again I can add a texture for free if you like (I tend to use them quite a lot).
Examples: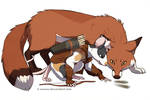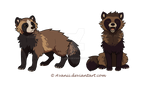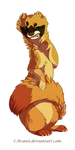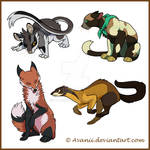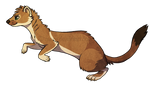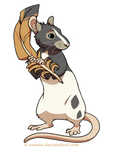 Painterly soft coloured sketches:
€30 to €50 depending on the complexity of the character. Portraits may go for a bit less. The background is larelgy blank, the whole piece has an old, nostalgic feeling about it with many soft, warm colours.
Examples: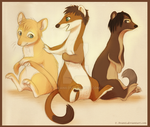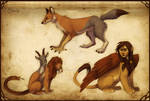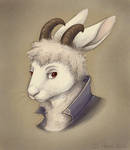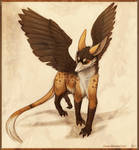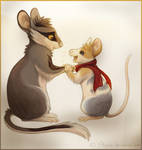 Painterly pictures with simple background:
€40 to €80 depending on whether you want a portrait or a full body picture and how complex your character is. These paintings are very colour-based so I'll need to know what kind of colour you'd like to be important, and what pose, expression or emotion you'd like

The background will be simple, the character can be painted either lineless or with thin lines.
Examples: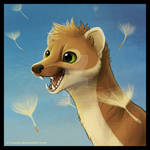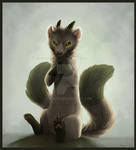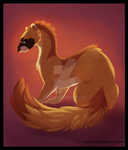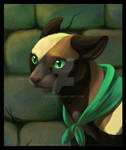 Traditional Art


Character inks:
€15 to 25, depending on the complexity of the character. Shading won't be very present unless your character is mostly white/light in colour, in which case I will add it to make the piece look more finished. Character inks are not very large: the examples given are all drawn together on one A4 sized paper (Bristol paper: very sturdy). If you have any specifications for the size please discuss them with me

Like the sketches, I can ship out the original art for an additional €1,50, worldwide.
Examples: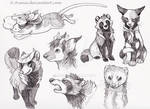 Bookmarks:
€25 to €45, depending on complexity: the amount of characters and detail of the background. The €25 would be for 1 character, from there on it goes up. Please discuss your wishes with me and I can give you an accurate quote. Bookmarks are made with China ink and Copic markers on thick Bristol paper, in a size suitable for pocket books. The element bookmarks given as example are larger and will always stick out of (pocket) books. Shipping is €1,50 worldwide.
Examples: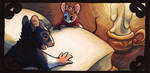 Plushies


For plushie commissions I have made this guide: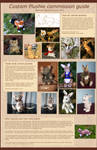 Please read it through before noting me

. I get many queries for plushies without size indication and as I say in the guide, I need to know what size you want because that's what my prices are primarily based on! There is also this FAQ if you have a question not answered in the guide, it's very likely that it is answered here:

Plushie FAQBecause I have been getting a lot of questions about my plushies, commissions and plushie-making in general, I decided to set up this FAQ. It will be expanded as necessary, so if you feel something has not been answered yet here, leave a comment and I'll decide if it's useful to add it here


About me and my plushies
For how long have you been making plushies?
I started somewhere in 2011 I believe, it started off slow but once I got the hang of sewing and got my first good fabrics that did not stretch, it quickly became a large number of plushies! As I write this, I have more than 80 in my gallery and even more yet in the making. I don't expect that will change soon


Why did you start making plushies?
As a kid I was always collecting plushies, I still have them stored away safely. But I was often frustrated because the animals I wanted plushies of most either were unavailable to me, or they did not look like the represented animal enough! This played a hug
It's mainly for general questions such as how to start plush making, where to find patterns and what materials I use. But there is also a section about commissioning plush and it would be helpful to read it before contacting me, to save us both some time

Of course if you want a commission or just a check to see if I can make your character by all means send me a note

Some general notes on commissions


You may have noticed that I have raised some of my prices a bit. This is because I feel I've been underpricing myself considering the time I spend on commissions and the comparison to the minimum wage in my country. I am now an adult student who needs to pay bills, food and other stuff. I based the prices roughly on €10 per hour, so you can calculate how long it generally takes me to complete certain types of art.

Plushies are not included in this hourly rate as I spend much more time on them: their price is based mostly on material costs, which are very high!
I will draw animals and anthros, I may do humans as well but we'll have to discuss that as I'm not too confident with them yet!

I will not draw anything hate provoking or sexual, nor gore pictures (a little bit of blood is fine but no severed limbs, you know). I'm a little hesitant to draw fanart but you can always ask.
When noting me please always include a ref of your character(s) and what kind of pose, emotion or anything else you had in mind, and of course what type of commission you'd like! All prices given are for one character, except for the bookmarks. If you have any more questions please do not hesitate to ask

Thank you for reading!