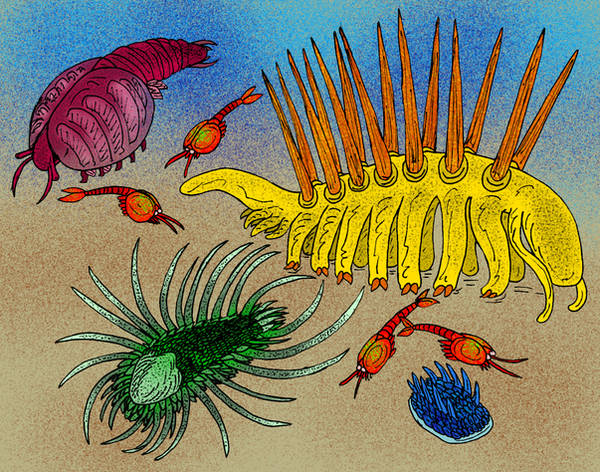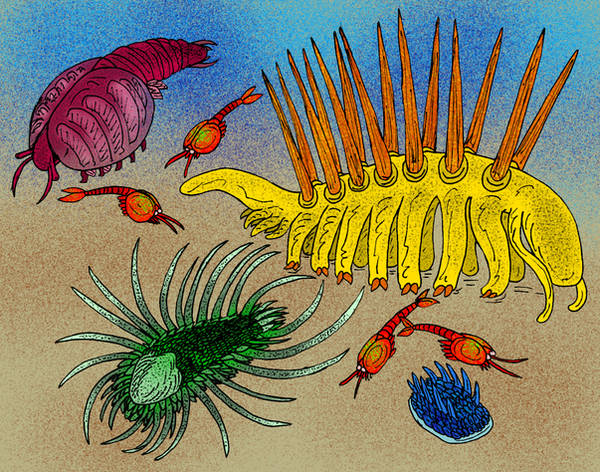 Watch
Various animals from the Cambrian Burgess Shales...
The green spiny slug in the lower left corner is the suspected mollusc Orthrozanclus reburrus. It combines features of both Wiwaxia corrugata (the blue hat beneath Hallucigenia) and Halkieria.
The large pink bug above it is Canadaspis perfecta, a basal arthropod that was once thought to be a crustacean.
The yellow, walking palisade-backed worm is the infamous lobopodian, Hallucigenia sparsa. It was originally thought to be a polychaete, and was named Canadia sparsa, in that it was "sparsely" spined, in comparison to C. spinosa. Later, it was thought to be a horror beyond imagining, with seven pairs of stilts, and seven tentacles... until Chinese fossils showed that Simon Conway Morris was looking at specimens upside down.
The little red shrimp-like bugs are Waptia fieldensis, possible crustaceans.

Reply

Love your drawings. Makes them all look cute despite the spines. XD

I'm taking Invert Paleo this semester. We're on arthropods right now, just did molluscs.
Reply
Reply

Nein. No lobopods. I could always inquire about them, though, but we probably won't go into them.
Reply

Awwwwwww i love the ones that look like little triops.
Reply

I love Cambrian art. And now I have to do a sketch of Orthozanclus reburrus. After you sent me that link I was hooked.
Wasnt hallucigenia's head indistinguishable from its rear?
Reply
No, the "head" on the fossils were a blob-shaped blob on one end, with a long tail on the other end which had a fringe of three pairs of mini legs.

Also, what's your opinion of Halkieria?
Reply

Looking back, that was a naive comment. Though, at least I knew there was "confusion" as to what it used to walk with.

As for Halkieria, I have no idea. To me it looks like a flatttened, spikeless Wiwaxia. Though, I remember reading that thier classification remains a mystery.
Reply
We knew which end was which with Hallucigenia, we just didn't know which way was up.
And we now suspect that Halkieria, Wiwaxia and Orthozanclus as being molluscs, due to Odontogriphus' recent identification as a basal mollusc.
Reply

Reply

Stephen Jay Gould would love this!
Reply