Clare | Female | 17 Years Old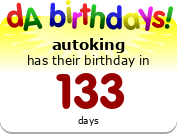 My name's Clare. I'm 17 years old and live in Scotland

I love G1/Film optimus primes. favorite characters from transformers G1- optimus prime, elita one, ultra magnus, rodimus prime, aerilbots, teckonbots, pretecknobots, dinobots, blaster, kup, wheeljack, twins, chromia, moonracer, firestar, arcee, bumblebee, jazz, skyfire, wheel, prowl, powerglid, rachet, springer, ironhide, maximise, chromdom, hard Head, brainstorm, cliffjumper, clons, autobot city.

</3>
I love all the autobots :-D
I hate every deceptions :@
DVDs I like - transformers the G1/Film/rescue bots, Titanic, walking with dinosaurs/beasts/monsters, brother bear, sleeping hollow, horrid Henry, black sheep, balto, Mrs browns boys, jurassic park/world, the lion king, the land before time, tarzan, bolt, jaws, the host, the Relic, dinosaur, 101 dalmatian, k-9,the flintstones, NYC tornado, 2012, californiaman, the rugrats. I love - transformers, drawing, TV, phone.