Gallery
l
Watch Me
l
Note Me
l
Tumblr
Cosplay
Okay. Cosplay. In my last journal post I outlined my cosplay plans for the rest of the year. Well, things have happened and thing have changed so I guess I'll let you all know what I'm up to now.
But first of all - WellyGeddon.
On the Friday before WellyGeddon weekend (so, the 8th of April),
JVCA
and I flew down to Wellington for the Wellington Edition of the Armageddon Pulp Expo. We arrived at the airport to be greeted by
seraphik
,
static-sidhe
and
jpwise
who we would be staying with. 8D From there we went straight to Strawberry Fare, which is a restaurant that specialises in the most AMAZING desserts. I can't even being to describe just how delicious their menu is.
Check it out for yourself.
We were soon joined by
somehowiknow
,
LadyArbuthnott
,
Tamarah
,
ThisIsNotDuckeh
,
hinoame
,
KeyshaKitty
, and others whose usernames I do no know. 8'D We were really getting down on Friday. A great start to the weekend.
As logic would suggest, tomorrow would be Saturday. Saturday was the day of the Digimon group -
MiyukiCookie
as Tai,
thornbacked
as Sora,
JVCA
as Kari,
purarokai
as T.K.,
Syill
as Mimi, :devazeriamad: as Patamon, Tracer as Wizardmon, valerious (that's her CNZ name, I didn't catch her real name or dA name

) as Yolei, Ricky as Izzy, Xig as Gomamon,
Li-Bai
as Gatomon... ffff, there might have been more but frankly I'm tired of listing them. 8Db
This is most of us posing for the Cosplay Parade (Hall cosplay showcase event). 8'D Mywigdidn'tsurvivetheflightdownterriblywell.
Near the end of the day was the Cosplay Parade, followed by the Cosplay Games. The cosplay games are always something to look forward to. Run by
JVCA
and
seraphik
, this edition of the cosplay games had the theme of Pokemon vs Digimon. The show started with
seraphik
walking on stage in her Trainer White cosplay with the pokemon opening playing on the projector, only for the music to suddenly change to the digimon opening, and for
MiyukiCookie
and I to drag her offstage, allowing
JVCA
to take the stage in her Kari cosplay. From there, the games continued as a battle between the two popular anime, including voice acting challenges, greatest warrior sketches, and the ever-amusing Extreme Cosplay Making Challenge.
After that, it started to get dark, with only an hour until the convention closed for the day. The digimon group and a few others trekked over to the Frank Kitts playground and the waterfront for some photos and silly business. Unfortunately a lot of the photos came out grainy due to how quickly it was getting dark.
Once we were done, we headed back to
static-sidhe
's place where we would eat pizza and do the last little bits on our costumes for the next day. Whilst working on costumes,
JVCA
and I introduced
seraphik
to the marvelous splendors of Adventure Time. 8D At the end of the second episode,
seraphik
was so amused she repeated the same few seconds over and over. Those few seconds can be seen
[here]
.
And Sunday comes afterwards. On the Sunday we had our own mini 9 Hours, 9 Persons, 9 Doors cosplay group, with myself as Santa,
JVCA
as June, and
Fairie-Tails
as Clover. Hopefully we'll have all 9 main characters at Auckland Armageddon! We didn't spend much time in the convention that day, we weren't entering the contest and there wasn't much to see after the first day until the contest main stage event. So we went across the courtyard to the latitude 41 cafe, ate lunch, and then spend the rest of our time taking photos (some of which have been uploaded to my dA already)!
The rest of the shoot can be viewed here:
www.flickr.com/photos/seraphik…
Photos courtesy of
seraphik
.
When we were finally finished with photos, we headed in to watch the cosplay contest which was simply stunning. Everyone put such great effort into their costumes. Congratulations to all of those who won, particularly
Tamarah
,
ThisIsNotDuckeh
and
LadyArbuthnott
who won Best in Show as the Cross Edge Triplets, Vivi, Mimi and Cece.
And that concluded the con. I bought almost nothing - only food and an FF Mini Trading Arts (I got Sephiroth, who I didn't have so yay!). We headed to
static-sidhe
's place, packed and ate dinner as quickly as possible and rushed off to the airport.
JVCA
and I were both happy and very pleased with the weekend, but disappointed that it was already over. You could say we didn't want the weekend to end. |D
So that's WellyGeddon. Now for the changes. As most of your should have heard by now, in February, Christchurch was struck by a second large earthquake in the middle of the day, with a high death toll and massive destruction of buildings. The convention centre and town hall, where Christchurch Armageddon would be held, were both badly struck and so the event had to be postponed, and may still be canceled entirely. This of course affects cosplay plans because that's one less convention to wear costumes to, so Fujio and Theodore have yet to be worn.
The new plans are as such:
Doujin Overload: Shinichi Okazaki (NANA)
Auckland Cosplay Ball: Undecided, potentially Theodore (Persona 3 Portable)
Auckland Armageddon: Santa (999), Kid Flash (Young Justice), Theodore (Persona 3 Portable)
I've no clue when Fujio will be worn. But oh well. The excrement eventuates, the affects on cosplay plans is nothing compared to the affects the earthquake has had on peoples lives in Christchurch. It's never too late to donate to the cause, whether it's for Christchurch or Japan, who has also suffered from earthquakes and accompanying tsunami.
As an aside, I've started thinking about next year (hurrdurr), and all I can say is that I have plans to cosplay Future Luke from Professor Layton, Isamu from Shin Megami Tensei: Nocturne, and Archangel from Baroque.
Blatant Self-Plug
So this is just me pointing out that I now have a Tumblr (actually I've had one since like, January, haha). I go by luna-dimidiata (latin for half-moon), and I post all sorts of thing, mostly cosplay, quotes from lyrics, and my subpar singing.
I've never done a feature, nor do I really have any idea how it works, but here goes!
JVCA
is my sister, best friend, and cosplay partner. At 20, she is in her final year of university doing a Bachelor of Graphic Design at AUT. She is also the artist/designer of our joint story Dominari Liber, about a girl who becomes involved in a plot involving 4 magical books, each with different capabilities. Not only that, she is responsible for taking a lot of my more recent cosplay photos, particularly my Yosuke photoshoot.
Some of her work: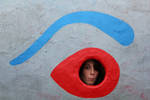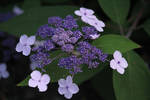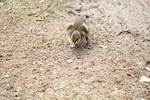 Photography!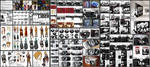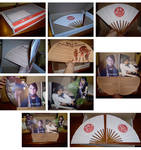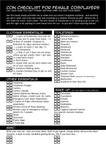 Various design work, including a super handy packing list of convention goers. (There's a list for female cosplayers, male cosplayers, female non-cosplayers, and male non-cosplayers; just download the .zip file!)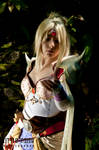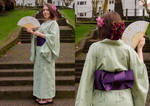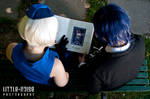 And of course her cosplay work! You can see her Rosa (FFIV) cosplay, a simple green yukata she made, her Flonne cosplay made from an original design based on one of Etna's cross edge costumes, and finally her Elizabeth cosplay and Persona 3 Compendium. (I am making Theodore to accompany her Elizabeth costume - she made me a compendium too!)
I think that's it for now.

CSS made by
TwiggyTeeluck
Texture by
LilySanches