Welcome to Austrian History!



This is a group for everyone with an interest in the History of Austria from Prehistory up to the First World War, as well as Famous Austrians, the Austrian Empire and the K. u. K. Culture.



Rules!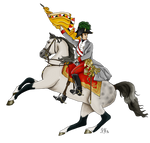 Everyone is welcome to join and contribute art related to the subject


Every form of media is accepted


We accept Art related to Austria itself or countries under Austrian government. Art related to Austrian rulers (Dukes, Archdukes, Emperors...). And famous Austrians (e.g. Sigmund Freud)


Also people who were born in modern day Austria (e.g. Mozart), or in a country that was Austria at the time they were born (e.g. Gregor Mendel).


Please notice that it is up to the First World War, so make sure your art does not pass 1918.


Mature contend is allowed as long as it has a filter. (However I have to review everything that's submitted anyway, so if it is too inappropriate I simply won't admit it)


Please make sure you contribute to the correct folder.

What goes into each Folder:



Prehistory - everything from Dinosaurs to the Stoneage, either Finds from Austria or Objects in Austrian Museums



Antiquity - everything related to the Romans and Celts in Austria



Medieval Austria - Babenbergs and early Habsburgs, as well as Photography of medieval buildings (roughly 9th - 14th century)



Renaissance - everything related to the 15th and 16th century



WWI - Everything related to the first world War (1914-1918)



Imperial Vienna - Photography of buildings from the k. u. k. Era in Vienna



Flags and Maps - (for now this also includes Heraldry)



Hetalia - Please submit only art to this folder if it is actually connected to History or Historical Figures



Alternate History - Flags, Maps and Stories from Alternate Timelines as well as OCs that relate to Austrian History!



If your Art does not fit into any of the Folders, simply contribute to featured (or ask me)!

If you have any questions please contact me!

Enjoy your stay!