This is a collection of frequently asked questions I get either on here or on Tumblr. Please note me or comment if there's any further questions. Commission information is located at the bottom.
Art Releated
What program do you use to draw?
I mostly use Photoshop CS5, though I use Sai on my laptop.
What/who is your biggest art inspiration?
I mostly draw inspiration from music and Makoto Shinkai (5 Centimeters Per Second), but I also get inspiration from the 80s, Alessandro Pautasso's work, and misc animes.
How long does it take for you to make one of your drawings?
Depends on the complexity. The portraits only take a few hours while some of the grand scale ones can take a few days to complete.
Do you only do digital work?
Mostly. I do sketch on paper and I enjoy messing around with watercolor and acrylics, but time and cost wise it's easier to stick with digital.
Where do you find your textures?
Most are from DA and I fav all of them!
auroralion.deviantart.com/favo…
How did you learn how to draw?
I'm all self-taught. I went to college for graphic design, so I just had a very basic drawing/anatomy class. The classes I had were about type/layout/ad design/etc.
General
Do you do art trades or requests?
Nope. Plus it's not fair for me to accept a request when others have to pay for a commission.
Can I use your art?
It depends what for. Just ALWAYS ask me via note first. If I say yes, then I'll require credit and a link back to the original art source.
Can you make a tutorial about ______?
I might in the future, but my process is so scattered and I never seem to do the same thing the same way. Plus there's already a ton of good tutorials here on DA. Just use the search function.
Where do you find your awesome music?
Mostly just through Soundcloud and Youtube. My favorite channels are
MrSuicideSheep
and
xkito
.
Are you ever even on Tumblr?
Not really. I post and leave. My internet's too slow to handle it honestly.
Will you ever post more about your OCs?
Yes! I really REALLY want to post more stuff about them. I have a whole story and everything. I keep updating them so much that I haven't made a character reference sheet for any of them.
Raid is so cute! Can I hug him?
This is seriously my most asked question.
Modeling
Where do you buy your Zoids?
Usually from Amazon (cuz I have Prime) or ebay. Occasionally from Ami Ami.
What paints do you use?
My personal favorite is the Testors Model Master acrylic series. They always paint on nice, water clean-up, and they're non-toxic with no fumes!
Commission Info
To save my sanity, I will just be doing single portraits right now since I also work full time and run my own jewelry business. The slots are a first come, first serve. Price is 30 USD and I accept Paypal only.
To commission:
Send me a note with what you want. I draw all continuities. Be specific with what you want, like what colors, textures. I can color them in their standard colors without any kind of crazy color. Can also do a mix where a color is the highlight or back lighting. After you tell me what you want, I will make an outline sketch and email you it to approve. After that I will color it. Once I'm done with the piece, I will request payment. Once I receive payment I will email you the full res image to print, take and get printed, or just to use on your computer.
Why can't I commission you to draw slash/porn?
I personally find porn related art very tasteless and consider it the lowest art form and subject an artist can do. Plus porn is a really really watered down feeling of the real thing: porn < real sex (Just sayin'

)
Standard colors: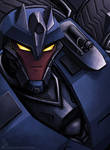 Non Standard Colors: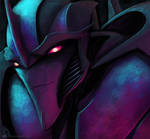 Zoid Commissions: Closed
Transformers Commissions: Closed
ALL TF SLOTS ARE NOW CLOSED
Confirmed Zoid Commissions:
Slot 1:
HanyoutaiKyoushu
*50% done*
Slot 3:
GhostLiger
Also the zoid commissions will be done in my current style.