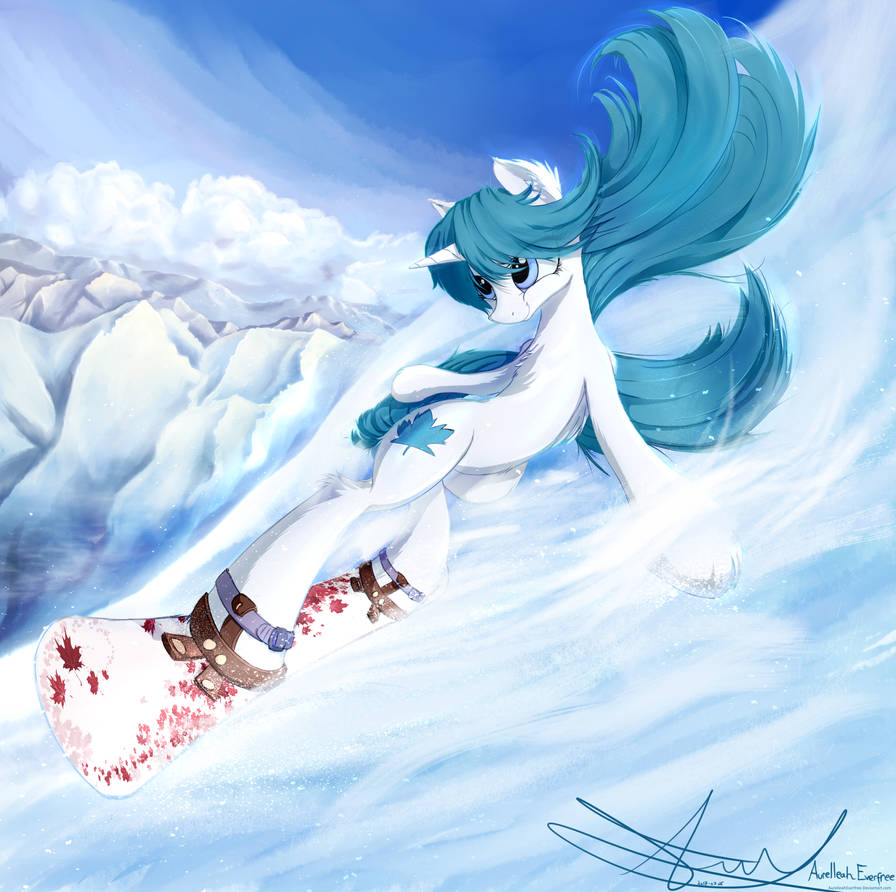 Watch
Tried to adjust my style a bit. I think next time Im not gonna use a textured pencil for lines

Everything I do is made possible by Chandler/Azure Serenity on Patreon, and by my other patrons whose support make my learning and experimenting possible!! Wanna help too? Check out my patreon here <3
www.patreon.com/Aurelleah
Okay to be honest...you've been granted a gift to commission for BronyCon for this piece of art is amazing and attributes to the Canadian country well.
Dynamics aside this is truly inspiring and the choices of colors for this MLP and snowboard are the top interest, and the full detail you put into here hair and all the studying it must have took to get the snowboard and straps just right must've been hard work at least. Although I will say that way she is swaying on cold snowy surface...it almost looks like she's about to fall right off the mountain's slope not to mention the concentrate of the blue line at the front is almost a give away if you look closely enough and pay attention to the surroundings like a Hawk. Her cutiemark outstanding and I love the little bit of grooves to it and I think it compliments the kind of red you used on the board. I love also how blissfully smooth you made the snow on the top of snow as if it is like water as Apricity places her well detailed hoof into the snow and even the realism of the clouds and the color gradience of the colors is amazing so KUDOS to that!

Now ice is hard to master even in cartoons (trust me I know), but overall the smooth and edgy landscape in the background is amazing and so vast! I think the picture would've sold it if you added Rainbow and Pinky in the background hanggliding and flying respectively, because let's be honest everypony, your pony is lookin into the distance as if she is interacting with other characters...and too me it makes the picture look sad and lonely and I know what's it's like being lonely so the impact is given a bit more rise. But in comparison wise...I look at Apricity and see as like a Marceline of the north, strong, a bit of loner when it comes to her favorite thing and just downright a badass

So kudos to it all and have fun at BRONYCON!




The Artist thought this was FAIR
7 out of 9 deviants thought this was fair.