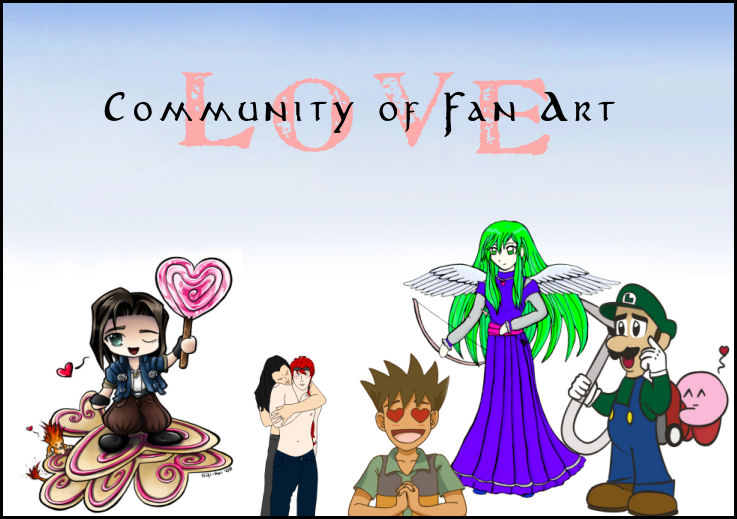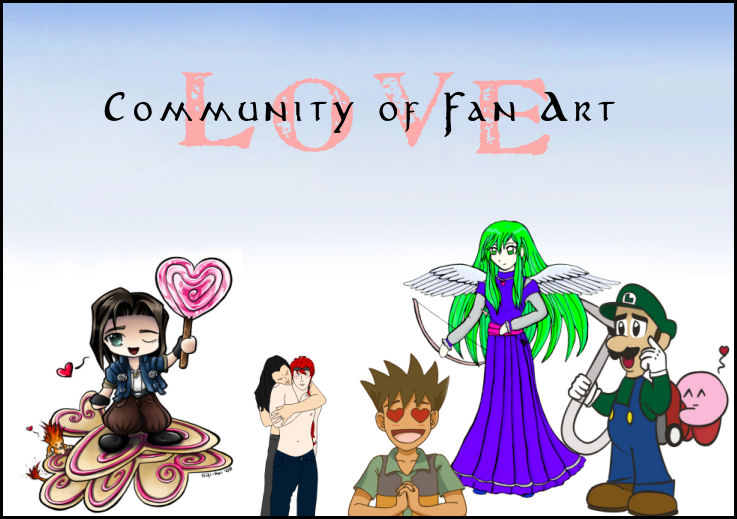 Watch
Community of Fan Art Love!
This project was originally started for Valentine's Day, but I'd like it to expand and have as many people contribute as possible!
The idea is to get as many characters into this piece by as many Fan Artists as humanly possible. Think of this as like one ginormous Fan Art collaboration!

How can you join in? Draw a character on a transparent (if you can) or a white (if you must) background, and then note the art piece to me, thereby giving me permission to add it on here! Make sure you tell me who the character is and where they are from! ;D

Updated on March 16th: Changed fonts for a more sleek look, airbrushed a simple sky BG, added 1 character!
1. =
kasumichan2003
with Brock/Takeshi!
2. *
sitara-lukyan
with Tseng & Reno!
( crediting ~
PepperPhoenix
for helping with the hairstyling on Reno)
3. =
llifi-kei
- Laguna
4. =
stigim19
with Luigi & Kirby!

5. ~
RandomSpyder
- Yae ; Ganbare Goemon

Note: None of these characters belong to me or any of the above artists listed! They are copyrighted by their respective owners <3