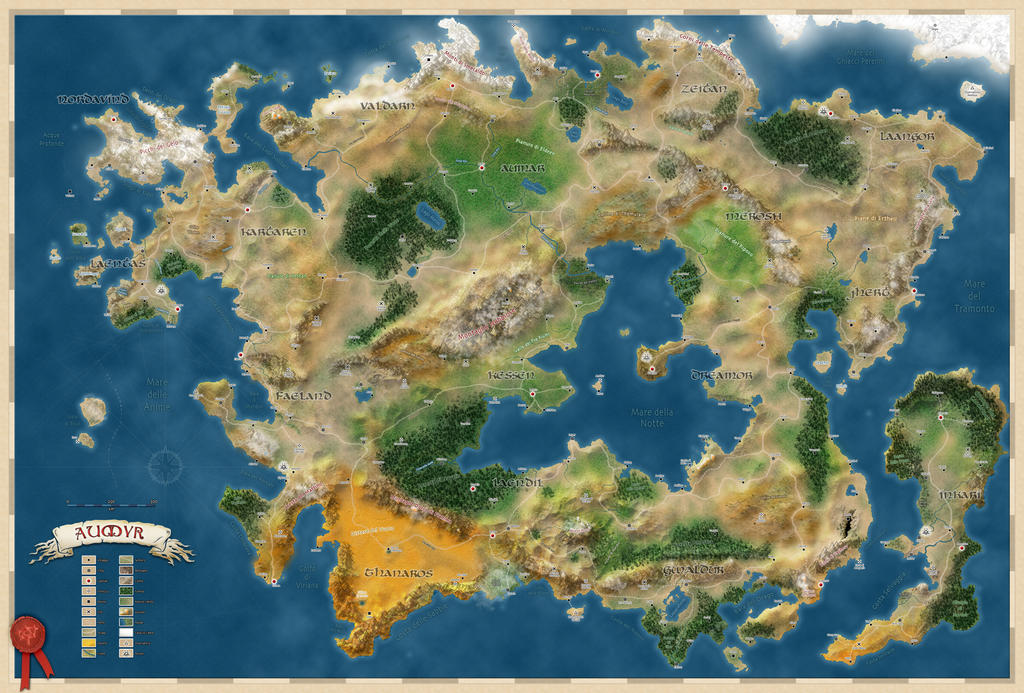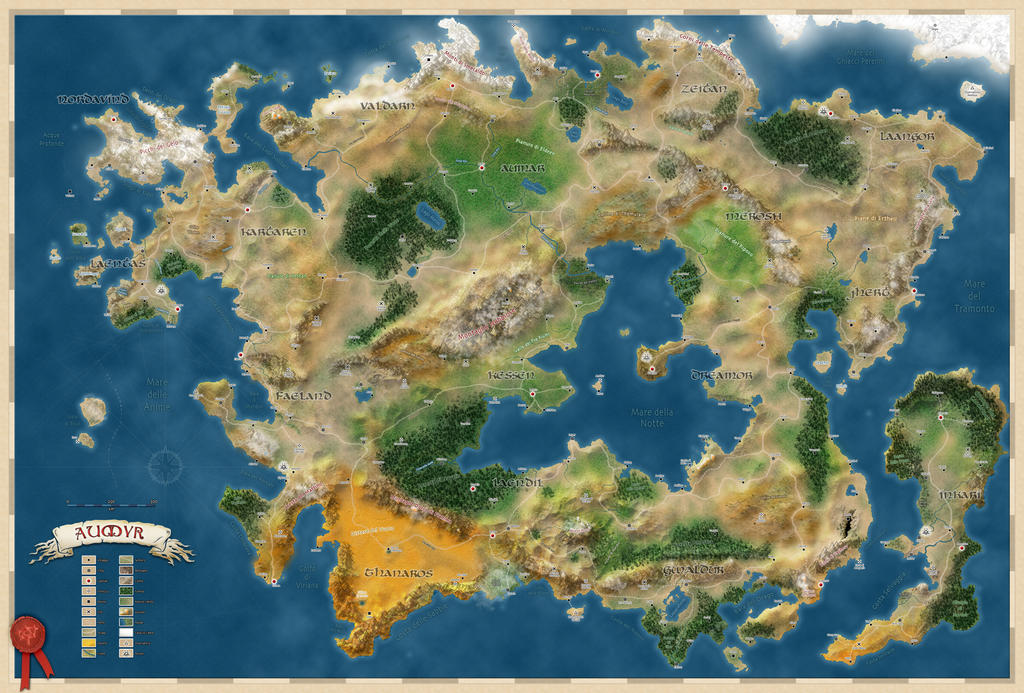 Watch
ITA:
Aumyr è un'ambientazione fantasy libera e utilizzabile con qualsiasi sistema di gioco di ruolo.
www.aumyr.it
Disponibile in Alta Risoluzione cliccando su DOWNLOAD (4942 x 3342 pixels)
ENG:
Aumyr is a free fantasy setting playable with any role-playing game system.
www.aumyr.it
High Resolution Download available, click DOWNLOAD for full view (4942 x 3342 pixels)
English Version here:
aumyr-it.deviantart.com/art/Au…

Excellent work!

Reply

Outstanding!

Is there any chance you would be willing to release it without labels? Just the terrain? It is a beautiful map and I would love to use it my own D&D game (private not published). Either way, cheers!
Reply

Reply

Gran bella mappa davvero!! Mi prenderò una settimana di ferie per studiarla tutta

Reply

Bella... veramente bella.

L'unica cosa... magari il deserto lo avrei fatto più di un color tenue... e le città avrei scelto dei simboli più significativi.... Bella anche la leggenda... anche se l'avrei inquadrata in qualcosa di delimitato. La lava dei vulcani l'avrei fatta più rossa... più che altro perchè se uno non sa l'italiano credo sia difficile identificarli come tali.

Naturalmente prendile come suggerimenti... non critiche... non sono all'altezza di far la parte del critico... :-/
Comunque ti ripeto che nell'insieme è molto bella come mappa.... altrimenti non l'avrei mai messa tra le mie favorite.

Reply

La versione inglese è in lavorazione.. Grazie per i consigli!
Reply

I love what you did here. I was wondering, what program did you use?
Reply

Is there an English version?
Reply

Reply

Not yet, but it's coming very soon...
Thanks for asking!
Reply

Very, very beautiful map. This is the sort of map I can easily imagine immersing myself in, while reading a story.
Reply

Very beautiful map, but the use of different languages makes it a bit confusing.
Reply