TUMBLR -- auffallend.tumblr.com/


PATREON -- www.patreon.com/auffallend </b>


PICARTO-- picarto.tv/AuffallendArt


TWITTER -- twitter.com/AuffallendArt

DISCORD ADD --

Auffallend#2990


YOUTUBE -- www.youtube.com/channel/UC-bE4…


As I am starting to revamp my skills on digital art, all new and incoming orders are on HOLD. All the people whom have made orders and agreements for projects will still maintain their spots and have their orders done as previously agreed upon, but any new/incoming orders will be accepted only based on my digression. I will be very busy with a new class, a full time job, and my current commissions, so if I don't accept your order right away you will be placed on the Wait List.

Additionally, my available commissions will change as I progress and learn new skills over the next couple months. People with current orders will maintain the original agreed upon styles and prices; however, they will have the option to change to a newer offer and still maintain their spot on the commission roster. If they/you decide to change to a newer offered style then they/you will lose the original option(s) for both style and price.




Help support what I do! <3




For now, commissions are open!!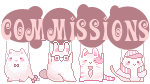 This is a way for my commission orders to keep updated past the specific notes


Just if anyone is curious, My prices are here: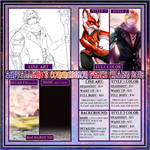 I open 10 slots for commissions at a time and start/ complete as they are ordered and paid for.
There is a waiting list if all 10 slots fill up but the wait time can be excessive depending on the orders.



= not started yet


= sketch started



= sketch finished but 1st half NOT paid for



= sketch approved and 1st half paid for




= lines done





= colors in progress






= finished but 2nd half NOT paid for






= FINISHED! <3



Current Orders:
1) Sleeve Tattoo design - Christy - Local Order


</b>
2) Twitch Icon - Ziek (local order)

3) Twitch Logo - lindseykatelyn

4) reserved for


5) reserved for


6) Pokemon binder design -


7)

- CHARACTER REDESIGN prize


8)


9)

10)




WAITING LIST:



1)



2)



3)



4)

ON HOLD LIST:
The people in this list have not returned contact for an excess of 1 week. In order to keep commissions running smoothly they are being removed from active slots.
People on this list will remain here for no more than 2 weeks from the day they are placed in it.
If contact is returned within the two weeks, they will be added to available open slots.
If contact is not made within the two week, they will be removed from the commission list entirely.