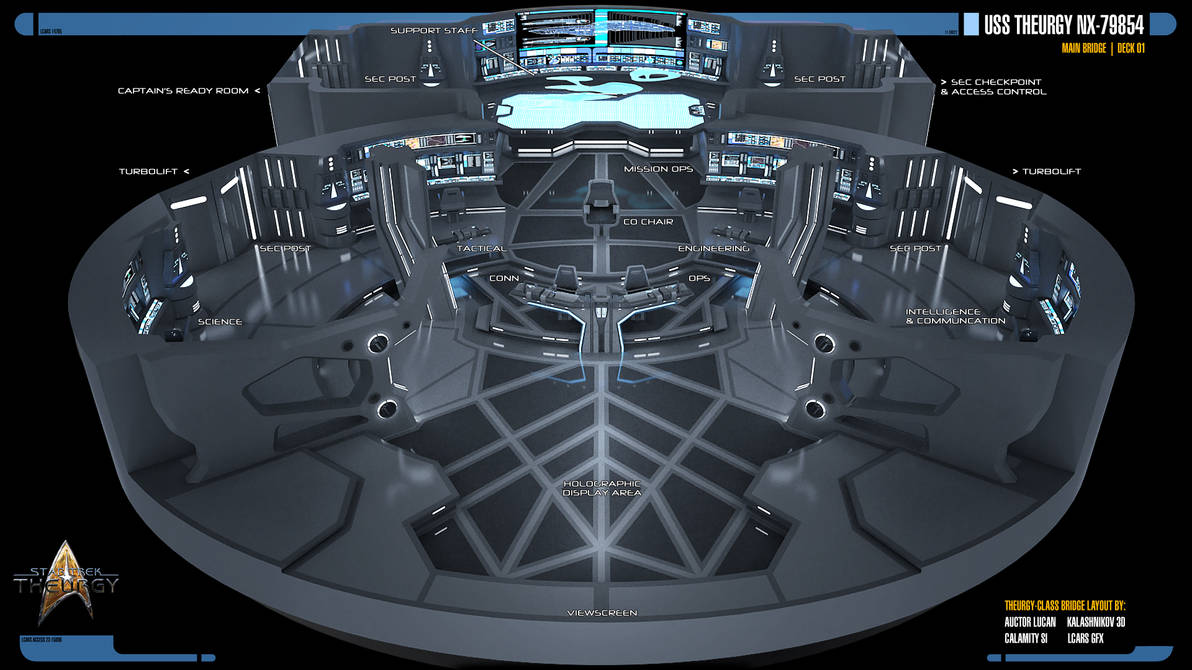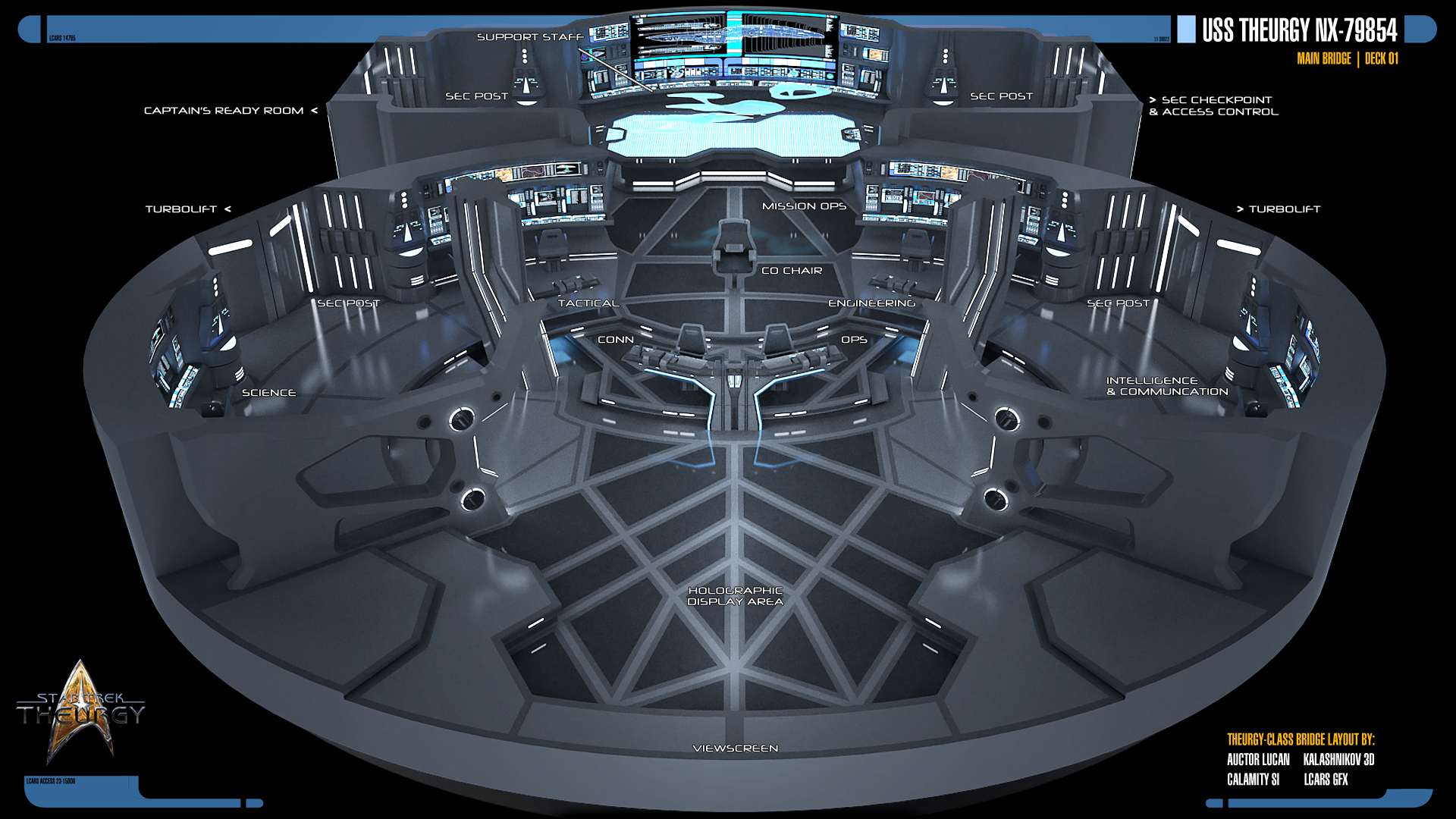 This is the main bridge of the USS Theurgy in the Star Trek: Theurgy story, and it is partially based on a USS Vengeance model by Calamity Si with his consent. The 3D model was a commissioning by Kalashnikov 3D. It was made in Blender and the compatibility with Sketchfab was done by Kalashnikov. LCARS screens partially made by Alexander Richardson (LCARSgfx) and the final edit to materials and lighting was made by me.

Here is the link to the Sketchfab model, where you can pan around and zoom in on details. Just make sure to enable the HD resolution if your computer allows it, and go hunt for the Easter eggs hidden on the displays.

USS Theurgy Main Bridge Sketchfab 3D Model
The design holds a new back compartment for fighter squadron ops, which can be directed by using the tactical holo-table. It is called the Mission Ops center, and can also be used for other away missions. The large area in front of CONN and Ops can also be used to tactical holographic displays as required.


---
Star Trek: Theurgy
functions solely as non-profit entertainment for writers where no economic gain is perceived by any of its members as a result of the available media.
Star Trek, Star Trek: The Original Series, Star Trek: The Next Generation, Star Trek: Deep Space Nine, Star Trek: Voyager, Star Trek: Enterprise
, the
Star Trek
movies, etc. are © Copyright
Paramount Pictures
and
CBS Studios
.
Main Forum page:
Star Trek: Theurgy
Star Trek: Theurgy is kind of a progressive novel, composed of large long-lasting story arcs that can go on through several Episodes, as well as the more common plots produced by character interaction. All of this is written cohesively by the writers, edited and corrected by the group and the Game Moderator to assure a consolidated storyline. Other terms for this kind of community are "sim" or "play-by-post/forum roleplaying".
"What kind of writers are we looking for at Star Trek: Theurgy?"
We're looking for good, descriptive and creative writers that can handle English well. You should also know enough about the Star Trek Universe to be able to partake in creating intense, interesting storylines together with the other writers. We are a very literate group, with a minimum posting requirement of 200 words per post, and the commitment to the story is long-term. We have been running the story actively for five years, and we will continue for many years to come. Therefore, we are not interested in casual, brief commitments, but something that will last for many years.
"What's the nature of the story?"
Star Trek: Theurgy is a detailed, quite dark, story-driven and long-term roleplay and while it's rated 18+, it is not some shoe-horned excuse to write Star Trek smut scenes. If that's what you are looking for, you can look elsewhere since you'll be really disappointed.
It is not expected of any of our writers to detail the intimate relations of their characters with others, even if it's allowed. Several writers among us have an aversion to writing graphic sexual scenes, so if that's not what you care for, then that's no problem at all. The story revolves around a ship and a crew in dire straits, against impossible odds, and with a lot of intrigue and mystery to it. We just don't enforce limits on what you care to write, like explicit scenes of violence or intimacy, as long you adhere to our General Rules and all writers consent to the specific scene their characters are in.
"How do I join the story?"
This page should serve quite well for an answer, but it's recommended you contact the Game Moderator if you have any questions: Joining the Crew.

Nice layout, but shouldn't communications be closer to the central hub; perhaps the unassigned station to the left of mission ops? Even with directional acoustics funneling sound in specific directions, is it really a good idea to require your communications officer to project across half the bridge to get the captain's attention?
Reply

Now I want this bridge in Star Trek Online but have it support all the ships MSDs and Holograms
Reply

Reply

Just want to say that you are very creative in making this bridge...the only thing I would like to say that it doesn't align with your original bridge layout with the command seating is like voyager with the first officer besidesign the captain...in this layou only the captain. Do you have an explanation? ??
Reply

Reply

I like a lot about this bridge, but what is the purpose of having those big honking struts all over the place? Trek bridges tend to be more open plan than that. And yes, I know JJ did it too...didn't make sense to me then either.

Still, nice 25th century bridge! *thumbsup*.
Reply

Thank you! If nothing else, those science officers on the starboard side won't be distracted by the viewscreen, that's for sure.

Reply

I like the struts, it seems odd to me when I see such genorus use of space on a star-ship as is in the typical bridge, if it has strutual elements running though it that maked it a bit more believable, not to mention that the open plan thing paradoxically makes the bridge the least defendable part of most ships.
Reply

WE NEED AN IRAY VERSION OF THIS FOR DS.

Reply