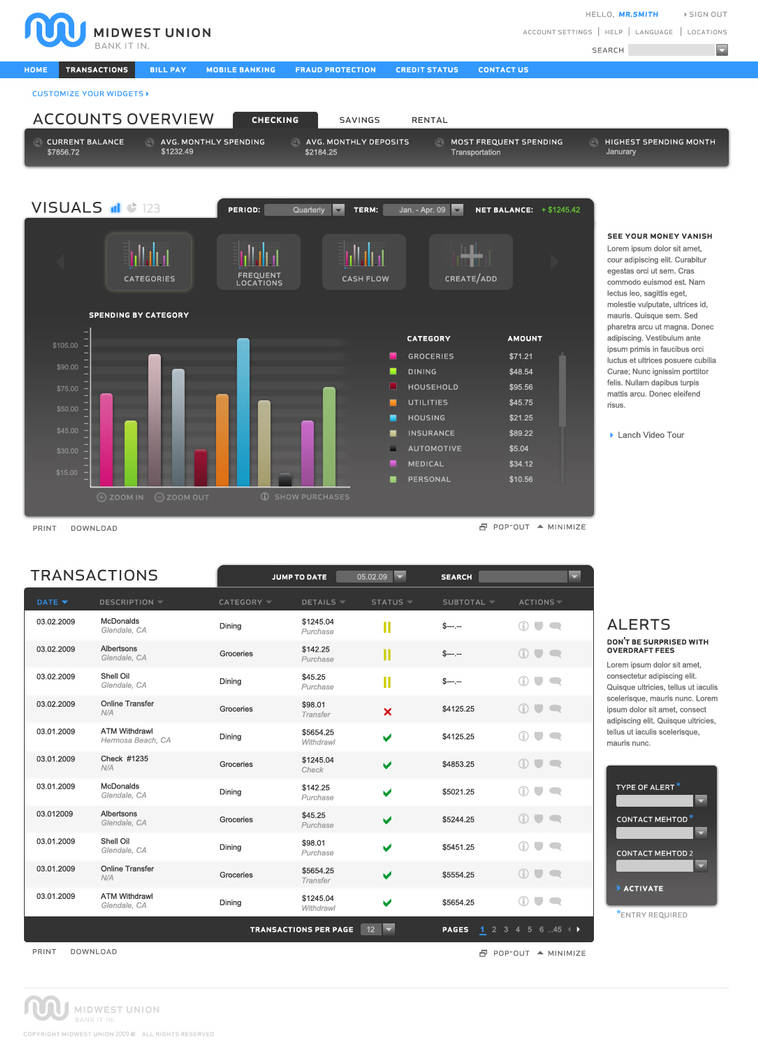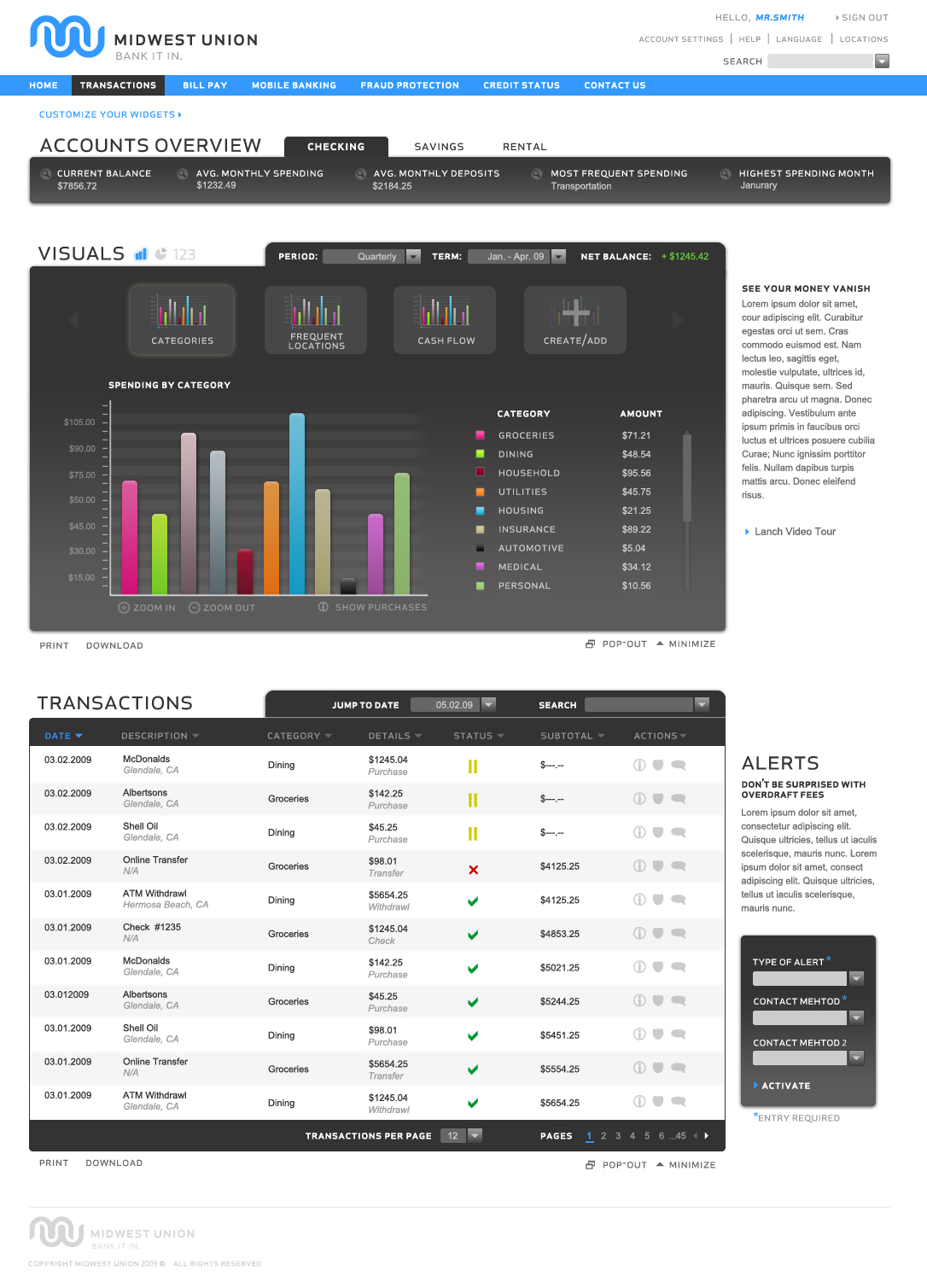 Watch
A design for my work that is entering a few pieces in a design contest. This is the cumulation of 2 back-to-back all nighters, and little experience with IA. I never really thought about it all that much until now, but it's pretty tedious.
Here's what I wrote about it.. had it been submitted..

:
NOTATIONS:
Accounts Overview: Accounts overview gives you the quick and dirty facts you want without clicking. This is also where the user toggles between accounts, and the other widgets load new data sets accordingly.
Visuals: The main goal is to bring easy yet informative graphics to users ranging from casual bankers to savvy penny pinchers. Easy default visuals with a more advanced option to create specific visuals for each individuals needs.
Transactions' Description: The description finally becomes understandable and useful because of it's simplicity. Makes it easy to recognize fraudulent charges on your account by location.
Transactions' Actions: This allows the user to either gain more transaction details, report fraudulent purchases or talk to a representative to clarify details. The goal is to provide readily available solutions to the bankers needs.
Widget Structure: All functions on the site are built as widgets that can be re-ordered, removed or popped-out in a new window. This allows people to establish a hierarchy of their needs, as well as create a dynamic environment promoting users to utilize their "own" banking interface.
ABOUT THE SITE:
The fundamentals of my design revolve around the ease of user experience based on the idea that no two online bankers are the same. Some people come to online banking to only check their balances, and some would like to analyze their spending down to the last penny. Creating a platform that can be manipulated to make banking a first grade level task to one of extreme complexity gives my bank a distinct advantage over existing banks. For the people looking for in depth analysis of their spending, this platform will eliminate the need for 3rd party accounting software while making their data accessible from any location.
Another main theme, regardless of the complexity the user chooses, is the union of ease of information and solutions. First and foremost, the presentation of information on most online banking sites is either overwhelming or written in Greek. Presenting the user with information that is digestible and recognizable is a paramount achievement when compared to existing banks. Assuming the user can comprehend what they're looking at, there also exists a large gap (and often long waits on hold) for any resolution to discrepancies. Reaching out and offering an olive branch of cooperation to resolve any qualms the user may have speaks volumes on the banks dedication to quality of service.
*And I also did the identity/logo, etc for this made up bank.

Reply

this actually looks good

Reply

Just a thought on your comment about it being tedious. It's really not that bad from the development perspective. Usually, sites like this are broken up into elements and databases. Server Side Includes manages things like the navigation, footer, and other repetitive elements. CSS manages the style, and PHP/ColdFusion/ASP.net matched with some form of SQL. In a way, the most tedious part of designing this type of system is actually making up the fake data for the fake example person. Anyway, thats just my two cents. love the interface!
Reply

Ya, i'm not too fluent with the back-end to be completely honest. I knew the concepts behind the different development tools (CSS, PHP/ColdFusion), but implementing them usually becomes tricky for me to grasp. But the hardest part was definitely the user interface.. just trying to design something that is complex, functional and intuitive just fried my brain. (I probably throw around the wrong terms at the wrong time.. i'm completely new to IA, UI, UX... all of those things haha)
Thanks for the feedback though!

Reply

no problem. im sorta the opposite. i mean, i love great interfaces, and making them, but i also love making the gears work. It's like a car. People don't want to drive a car that looks like a Pinto but runs like a Bugati, just like nobody wants to drive a Mustang that runs like a rusty tricycle.
Reply

I like it

Reply