This is the official Deviantart group for the virtual pet site :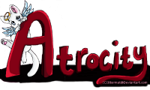 UNDER CONSTRUCTION!!!!

At the moment we are still in the testing phases- but you can make an account and play around/explore- just be wary that things are subject to change and/or dissapear, but it is still perfectly playable! so join us! And help me make sure everything is working right <3 Theres alot to do.

"Please come join us in a world of wonder and knowledge, where you can visit a shrine of ghost demon cats- go into famous books, interact with diverse and unique NPCs, Collect rare items, And learn about history and Folklore (among other things) as you as you raise and play with exotic and sometimes strange pets!"




All Art/images (C) atrocity and their original owners- no reusing or redistributing anything here without express permission from the creator!<b>