Cómo no, ya está aquí el trol de

lanzándome vudú. ¡Vamos allá!
Oh well, here it comes

again with his trol vudu. Let's go then!
1. You must post these rules.(✔)
2. Each person has to share 10 things about them.(✔)
3. Answer the 10 questions asked to you, and invent 10 new questions the persons you tag will have to answer.(✔)
4. You have to choose 10 people and put their icons on your journal.(✔)
5. Go to their pages and inform them they are tag.(✔)
6. Not something like "You are tag if you read this".(✔) --> Shubi-dubi-dubi-wa
7. You have to tag 10 people. (✔)
==========================
10 Cosas sobre mí
01.-
Soy una mujer que ha jugado durante más de una década a juegos on-line y no me considero un trol ni una friki.
02.-
Mi deporte favorito es dormir.
03.-
Ahora desayuno cereales y meriendo ColaCao >_>
04.-
En casa y en el trabajo, siempre trabajo con iMac.
05.-
Me gusta el arte de Alphonse M. Mucha.
06.-
Todavía leo manga, comprado y on-line.
07.-
Todavía veo anime... original subtitulado.
08.-
Me gustan las pelis de Marvel.
09.-
Empecé a maquillarme a los 27 años (la edad no perdona).
10.-
No me importaría vivir en Japón.
10 Things about me:
01.-
I'm a woman that have been playing on-line games for more of a decade and I don't see myself as a freak or a troll.
02.-
Sleeping is my favourite sport.
03.-
Now I eat cereals for breakfast and drink ColaCao as afternoon snack >_>
04.-
At home and job, always work with an iMac.
05.-
I like Alphonse M. Mucha art.
06.-
Still read manga, bought and on-line.
07.-
Still watch anime... original sub-titled.
08.-
I like Marvel's films.
09.-
I started makeup at 27th years old (age does not forgive).
10.-
I won't care living in Japan.
==========================
Las 10 Preguntas de

Sorry, this part only spanish
01.- ¿En caso de tener que acostarte con Scorpion o con Sub Zero, con quién sería?
Para empezar he tenido que tirar de Google para ver quiénes son... Así que mejor se hacen un apaño entre ellos.
02.- ¿Verdura, carne o pescado? Razona tu respuesta. Bueno no, me importa una mierda.
Verdura, carne y pescado. Soy omnívora :E
03.- ¿Eres más clásico de Colacao con grumitos o un marica de Nesquick?
Leche caliente = Cola Cao
Leche fría= Nesquick
04.- ¿Qué te gusta beber cuando sales de fiesta? Si no sales, ¿qué bebes cuando estás de fiesta en tu juego online?
Soy mu' moderada, Cerveza o Vodka con naranja / piña.
05.- ¿Cuál es tu creación de DA que más te gusta? Tus fotos poniendo poses kawaii y collages de Justin Bieber no cuentan.
Mmmm, supongo que esta: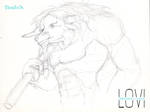 06.- ¿Qué te gustaría hacer en un futuro? Relacionado o no con habilidades artísticas. Si no, para qué hostias estás aquí.
Dibujar con más asiduidad, por más que diga siempre lo dejo de lado... Y pintar las paredes de la habitación de mis futuros hijos con cosas frikis *_*
07.- ¿Cuál es tu grupo de música favorito? Si la respuesta es Mago de Oz, por favor coge lápices y clávalos en tus ojos, después salta a la siguiente pregunta.
No soy una gran fan de la "música", o más bien de un grupo concreto. Me gustan canciones sueltas de grupos y géneros varios. Sobretodo la música de las BSO y ambiental.
08.- Si pudieras elegir salvar la vida a alguien que te ha jodido alguna vez, y comprarte figuras de las Tortuga Ninja, ¿te pillarías también a April O'neil?
Jajajaja, tan resentido como siempre :3 (¿son edición limitada?)
09.- ¿Qué color es tu favorito? Recuerda que el negro no es un color, aprende algo.
De toda la vida ha sido el verde, ahora no podría decidir *_* Me va a días, a veces amarillo, otros azul...
10.- ¿Qué preferirías de mascota rara, un lagarto chupaculos, un jabalí eructador, un tigre gay, o un mono pajillero? Razona tu respuesta. Ahora sí que me interesa.
Un tigre gay. Lo usaría de transporte (como Heman) y cuando estuviera ansioso, lo llevo al Zoo y listos. Y si me ataca alguien le lanzo al tigre a por la nuca... ¡"Drakaris"! ¡"Armaggedooooon"! XD
==========================
Mis 10 Preguntas para ti
01.-
Si fueras un súper héroe, ¿Qué poder tendrías?
02.-
En una guerra por la supremacía de internet, ¿quién ganaría: gatos o porno?
03.-
¿Culo o Codo?
04.-
Escoge uno de cada sexo: ¿Hugh Hackmann ó Matt Bomer? // ¿Scarlett Johansson ó Angelina Jolie?
05.-
¿Cuál es tu dibujo favorito de tu galería?
06.-
¿Me recomiendas ver la galería de alguien?
07.-
Si lees ¿Cuál es el libro con el que más has disfrutado?
08.-
Si pudieras viajar en el tiempo, ¿a "cuándo" irías?
09.-
¿Piratas o Ninjas?
10.-
El momento más feliz que recuerdes.
My 10 Questions for you
01.-
If you were a super hero, What power would you have?
02.-
In a war for internet supremacy, ¿who will won: cats or porn?
03.-
Ass or Elbow?
04.-
Choose one of every sex: Hugh Hackmann or Matt Bomer? // Scarlett Johansson or Angelina Jolie?
05.-
Which is your favourite draw of your gallery?
06.-
Do you recommend me someone gallery?
07.-
If you read, What's the book you enjoyed the most?
08.-
If you could travel trough time, "when" would you go?
09.-
¿Pirates or Ninjas?
10.-
The happiest moment you remember.
==========================
Los elegidos / The choosen one:

-

-

-

-

-

-