sup ya'll. i was tagged by my buddy

and they wanted to know more about Lilith so, hey lets do this!!


Rules:
1. Post these rules.
2. Post a pic of your oc
3. Post 10 facts about your character. You can take same fact (but different answer lol xD)
4. Tag 5 to 10 other characters and his creators


Lilith Κακό Hat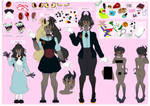 1. she never went threw a emo or rebellious phase. well she did date the son of her father's arch nemesis behind his back.

2. Lilith place in the organization is very important. being the Secretary on most days she takes phone calls, schedule appointments, file complaints, and write names down on her father's black list. with her being there also frees up BH's and Flug's time a bit. so Flug can spend more time in the lab and BH can do more boss like things.

3. Lilith had Dem help her dye her hair. when she first showed her parents her hair she was scared that BH would get mad and tell her to turn it back. but BH actually really liked it and he thought it fit her really well, Flug really liked it too.

4. she has a birth mark on the back of her neck of BH's insignia. they don't know how or why it got there but its there.
((his insignia is just a tophat with a
circle
around it))

5. BH taught Lilith how to play golf! but only after the 3rd hole they were out of balls. and clubs and BH lost a tooth and had a black eye and a blooded nose.
it wasn't pretty.

6. Lilith has all the same abilities as BH but one she can't control and still doesn't know how to use. universe hoping. sometimes she can do it but every time it works she doesn't know where the portals go and they always lead to some where horrible.
Flug and BH spent a whole mouth testing and working with it but it never worked.

7. Lilith has been having horrifying and realistic nightmares ever since she was very little. they get so bad that she has to get out of bed to see if her family is okay. she ends up staying in bed with BH and Flug after the nightmares.

8. she has a special amulet that can change her appearance so she can go out to town with anyone being the wiser! but the amulet doesn't change everything, it leaves her eyes and teeth like normal so BH makes her wear sunglasses and a mouth mask.
but he still does't trust the world they live in so he shape shifts into a raven and follows her till he knows she'll be okay.

9. she had a very intimate relationship with Johnathan. but things really didn't work out in the end.

10. Lilith's really good at card tricks, riddles, mind tricks, and paradoxes.

~my tags~

1-
with Edith and Edison.
2-

with Aion
3-

with
Sakon

4- N/A
5- N/A

i have more facts and silly things i want to share but i ran out of space!!!