Hello there.
Since released from the last operation back in early October, my health has been improving quite a bit, mostly not feeling as tired as I was before and less issues. Sure, still having the occasional hiccup here and there (had to go to the hospital today due to a clogged catheter...), but back to spirits and being able to work at a decent pace, and getting back to my original stride.
What I'm trying to say is that I'm ok to open commissions properly.
Some of you may noticed I have made changes to the prices (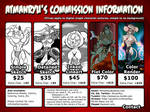 ); said prices were reviewed by several people, plus a reflection on the efforts I've made to get to a point I can be more productive.
However, I'm running like at 75% efficiency (still having bathroom emergencies that might keep me from working prolonged periods of time), so for the time being things like sequences and comics may be put on hold until further notice; single images are good to go however.
Also you can always tip me some coffee at
ko-fi.com/atmanryu
; I appreciate your support.
That being said, will aim for now for more frequent stream at more convenient hours.
Thank you for your understanding and moral support.